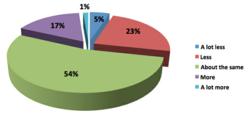 We appear to have a 'cautious-but-not-worried' attitude about the fiscal cliff and its impact on our personal lives.
Boulder, CO (PRWEB) December 12, 2012
Ninety four percent of consumers plan on doing holiday shopping this year, according to a new study by Market Force Information, a worldwide leader in customer intelligence solutions. Of those who are, 72% said they expect to spend at least as much as they did last year. See Graph 1. The study also revealed that two out of three consumers were aware of the pending fiscal cliff – the economic effect of a number of expected tax increases – yet most plan to make only modest adjustments to their spending, as a result.
Results also showed a growing appetite for online buying, with 39% of respondents indicating that they expect to do more shopping via online channels this year. Of those, 14% said they expected to do much more online shopping and much less retail shopping. The other 25% indicated simply a greater use of online and less use of traditional retail. See Graph 2.
When asked why, the most popular reason given was the ease of finding items they wanted to buy online (44%), followed by the perception that online shopping is getting easier every year (42%). Close behind was that they prefer the shopping experience online vs. in-store (39%). Just 17% said that their increased online buying was driven by their ability to find retail bargains. See Graph 3.
Is the Fiscal Cliff Moderating Spending Plans?
Market Force attempted to uncover if consumers were altering their spending plans based on worries that their taxes would be going up if the current negotiations in Congress fail to avert the so-called fiscal cliff. It found that more than six out of 10 respondents are quite aware of the fiscal cliff. And, while some consumers expressed concern, most appear to be taking the issue in stride. More than half of respondents reported that they either don't believe the fiscal cliff will impact them or don't know enough about it to make a determination. A small percentage (5%) expressed more pointed concern, selecting the option, "I haven't thought about it much, but now that you mention it, I might re-think how I answered the prior questions about my holiday spending plans." See Graph 4.
Good Bargains are Spurring Plans, But Caution Abounds
About one in seven consumers plan on spending more this holiday season than last, and when asked, most of those consumers said that great buys and low prices were spurring their spending, as they assumed that prices are not likely to go any lower.
But, fully 28% of consumers thought they were likely to spend less this holiday season, and, while one in six (18%) of those said it was because there have fewer people to buy for this year, most cited concern about their own circumstances (63%) and the economic outlook (33%) in holding their spending plans in check.
"Our findings show that consumers are starting to be more confident as we head into the holidays," said Janet Eden-Harris, chief marketing officer of Market Force. "We appear to have a 'cautious-but-not-worried' attitude about the fiscal cliff and its impact on our personal lives. There is no question that there is still a real concern among many - with about one-fourth of consumers planning on spending less this year - but, the opinions of consumers overall should be encouraging to retailers across the board."
Not lost on any retailer, however, is the growing use of the Internet. "Many retailers are investing big resources in their online shopping experience, and it's clearly paying off," added Eden-Harris. "Consumers are flocking to their computers to shop, and not because they expect to pay less, but because the selection and experience is often more pleasant than fighting the crowds. Retailers that are embracing the multi-channel approach this holiday season are likely going to reap the rewards."
Survey Demographics
The survey was conducted in November 2012 across the United States. The pool of 2,500 respondents reflected a broad spectrum of income levels, with 63% reporting household incomes of $50,000 a year or more. Respondents' ages ranged from 19 to over 65. Approximately one-fifth were men and 79% were women, and 71% reported working full or part time. Nearly half of the respondents have children at home and more than two-thirds are married.
About Market Force Information
Market Force is the leading global customer intelligence solutions company for multi-location businesses, including major retailers, restaurants, grocery and convenience stores, financial institutions, entertainment studios and consumer packaged goods companies. With more than 125 years of combined industry experience, Market Force Information has pioneered the industry with a suite of customer intelligence solutions – from 600,000 field associates across North America and Europe who conduct mystery shopping, merchandising and retail auditing, to real customer surveys and proprietary decision-support tools. Its solutions provide a holistic view of the customer's on-site experience and identify the actions required at the store level to increase customer loyalty and improve financial performance. Market Force was named one of Forbes' America's Most Promising Companies in 2011. For more information, visit http://www.marketforce.com.
###