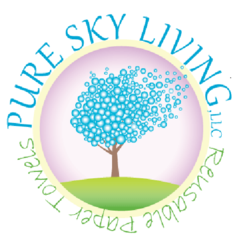 Our uniquely designed towels are as easy to access and use as disposable paper towels.
Charlotte, N.C. (PRWEB) April 18, 2013
Pure Sky Living, LLC has launched an innovative product, a Reusable Paper Towel system, that replace conventional paper towels thus reducing paper production, fuel and air pollution.
Co-owners, Amy Rountree and Lynn Wieland have developed a timely product in the current trend of living green and saving money. "I was looking for a solution to using so many paper towels and through a series of designs, we developed this system," says co-owner Lynn Wieland. "Our cotton towels are as easy to access and use as conventional paper towels. The unique design allows for them to easily stack on the countertop or can be hung from a standard hook," Wieland adds.
"We are hoping that our Reusable Paper Towels will be the new standard in every kitchen and bath. After researching the market, we haven't found another product that compares in convenience and versatility. It is a modern design that even replaces drying cloths, rags, and other kitchen towels that take up so much kitchen space and care in folding," says co-owner, Amy Rountree.
Consumers may not realize the impact that conventional paper towel use has on our environment. Tree cutting, enormous fuel use, chemical processing, plastic packaging and methane gas emissions when the towels decompose are all part of the cycle. This reusable product eliminates that waste and gives you a handy and eco-friendly solution to your daily drying and cleaning needs.
Pure Sky Living, LLC is headquartered in Charlotte, N.C.
As an Earth Day promotion, receive 10% off Reusable Paper Towel products at http://www.pureskyliving.com from April 20-22nd.
To schedule an interview and demonstration please call Amy Rountree at 704.606.8772 or e-mail Amy at amy(at)pureskyliving(dot)com. Product is available online at http://www.pureskyliving.com.