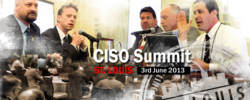 When an event is able to draw big names it assures the community that the information being presented will be top notch
Albuquerque, NM (PRWEB) May 09, 2013
The St. Louis CISO Summit, presented by EC-Council and Parameter Security, is making waves in the St. Louis region and beyond. One of the reasons the event is getting such a warm welcome in the local area, according to Eric Lopez, Conference Director for EC-Council, is the professional stature of the speakers: "When an event is able to draw big names it assures the community that the information being presented will be top notch." The St. Louis CISO Summit's agenda boasts some impressive speakers, including Erick Rudiack, CISO of Express Scripts; Timothy McLaughlin of Amdocs; Gary Harbison, CISO of Monsanto; and Richard Rushing, CISO of Motorola Mobility.
The Summit's format consists of three keynotes each followed by a panel discussion on the same topic. The intent of this format is to give the audience a deeper understanding of each topic presented and the time to discuss the issue at length in a collaborative, open environment. Topics to be covered include an in-depth look at securing data, led off by a keynote by Erick Rudiak entitled "Maturity Models Deep Dive." The panel that follows Rudiak's presentation will take the topic of securing data and expand on it, allowing the audience to ask questions to continue the conversation. Timothy McLaughlin's presentation, "Designing & Managing an Effective Security Program" will tackle the managerial, operational, and policy aspects of starting and continuing a world-class information security program. Also on the agenda is a real-time hacking demonstration by Dave Chronister. He intends to leave the audience questioning the security of their networks and to show the room full of executives that the methods hackers are using today can circumvent even the most up-to-date security systems.
Another reason for the event's success is that it is being co-hosted by a St. Louis company that is known for innovative information security solutions: Parameter Security. The combination of EC-Council's longstanding global reputation of excellence in the information security industry and Parameter Security's local reputation as the go-to pentesters, forensic analysts, and training providers has speakers and attendees expecting a fantastic event.
Only information security executives are invited to register for the event. Others interested in information security events can attend TakeDownCon, EC-Council's highly-successful, highly-technical hacking conference.
About the EC-Council CISO Program:
EC-Council's CISO Program has three components: CISO Events, the Certified CISO (C|CISO), and CISO Resources – a repository for white papers and articles geared toward a CISO crowd. EC-Council's CISO Events are invitation only and geared specifically for high-level, executive information security professionals. Combining keynotes with panel discussions, the events are opportunities for CISOs from around the world to hash out the trends and challenges of information security among their peers. The C|CISO is a certification recognizing an individual's cumulative experience and expertise in executive information security management. Overseen by a board of seasoned and distinguished professionals, the C|CISO Program has certified over 700 IS executives from around the world.
For more information about EC-Council's CISO Program, please visit http://www.eccouncil.org/ciso/
About EC-Council
The International Council of E-Commerce Consultants (EC-Council) is a member-based organization that certifies individuals in various e-business and security skills. EC Council is the owner and developer of the world-famous E-Council Certified Ethical Hacker (CEH), Computer Hacking Forensics Investigator (C|HFI), Certified Security Analyst (ECSA), License Penetration Tester (LPT) programs, and various others offered in over 60 countries around the globe. These certifications are recognized worldwide and have received endorsements from various government agencies including the US Federal Government via the Montgomery GI Bill, and the US Government National Security Agency (NSA) and the Committee on National Security Systems (CNSS) certifying EC-Council's Certified Ethical Hacking (CEH), Network Security Administrator (ENSA), Computer Hacking Forensics Investigator (CHFI), Disaster Recovery Professional (EDRP), Certified Security Analyst (E|CSA) and Licensed Penetration Tester (LPT) program for meeting the 4011, 4012, 4013A, 4014, 4015 and 4016 training standards for information security professionals and most recently EC-Council has received accreditation from the American National standards Institute (ANSI).
For more information about EC-Council, please visit http://www.eccouncil.org