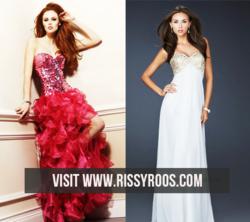 Thank you Rissy Roo's! I ordered this dress (Tony Bowls 112546) from you and wore it at a national pageant. I came home as a national queen! :) I also wore Sherri Hill 3729 for fashion wear and won the Overall Fashion award!"
(PRWEB) September 16, 2012
Announcing The Addition Of New and Latest Prom Dresses for 2013
The third quarter of the year 2012 may not yet be over, but it does not mean that one should not look forward to what the next year has to offer. Rissy Roo's will heighten ones anticipation for prom season 2013! As early as today, they are giving a preview of their ultra-extensive collection of trendy, gorgeous prom dresses from some of the top and favorite designers which are all featured on their website.
Rissy Roo's has been in the special occasion dresses-selling industry for over 30 years now, and for the past eight years, they have been offering formal and cocktail dresses to all parts of the nation through their online shopping site at RissyRoos.Com.
An Extensive Collection of New Designs for 2013 from Top and Favorite Designers
Now, what does the year 2013 have in store for young women who are already planning what to wear for prom night as early as today? It definitely pays to be an early bird because finding the perfect prom dress to wear in advance gives a first dibs on some of the hottest items from their collection.
On their website, you will find that Rissy Roo's has a complete line of formal dress designers featured. There are more than three dozen fashion houses listed on their online shopping website.
Let's say that if somebody is on the lookout for short, glittery prom dresses to wear. According to fashion experts, the washed-out bright colors from the 90s will make a splash next year. So if somebody is looking for a trendy dress, go for colors like prism pink, green, sulfur yellow, eggshell white and similar shades.
For the silhouette, it's still a matter of personal preference. You can take your pick from ball gowns, floor-length evening gowns, halter neck dresses, short dresses or high-low dresses. What's important is to wear something that will highlight the best features in a person.
As far as the designers are concerned, there are more than three dozen designers featured at Rissy Roo's. Some of the featured fashion houses for 2013 include:

Alyce Designs
BG Haute
Clarisse
Flirt by Maggie Sottero
Jovani
La Femme
Mori Lee by Madeline Gardner
Night Moves by Allure
Precious Formals
Scala
Sherri Hill
Scala
Terani
Xcite
Every young woman deserves to look her best on prom night. It definitely pays to plan early so take a pick now from the gorgeous prom dresses. With the grand launching of Rissy Roo's extensive 2013 formal dresses collection, one can choose the dress of their dreams which will make them feel and look like a princess on a prom night.
Visit http://www.rissyroos.com to shop the next prom dress, and receive exciting gifts with special offers, including FREE shipping.