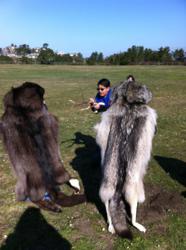 Budget cuts make experiential learning opportunities so rare. But, thanks to Rocket21 and Turner Endangered Species Fund, my 5th graders experienced an authentic day in the life of a wolf biologist," noted San Bruno Teacher Kathleen Talbot.
San Francisco, CA. and Bozeman, MT (PRWEB) February 08, 2013
Rocket21™ (the youth social network where kids explore amazing possibilities for their lives and futures) and Turner Endangered Species Fund (supporting endangered species conservation efforts) delighted 5th graders at San Bruno's Portola Middle School with a "Dream Big in the Wild" special event on Wednesday, February 6th.
The 31 students and their teacher, Kathleen Talbot, were selected as Grand Prize Winners in a national video competition, designed to increase awareness of wildlife conservation and recovery, as well as to inspire interest in wildlife and environmental science careers. The competition, a collaboration between Rocket21 and Turner Endangered Species Fund, was themed HOWL-O-WEEN: Dream Big in the Wild. The San Bruno class earned top honors in the 5th through 8th Grade Classroom Division.
As Grand Prize winners, Ms. Talbot's class received an onsite "Howling Party" – a nearly four hour experiential learning event featuring Turner Endangered Species Fund biologists Val Asher and Chris Wiese, scientists involved wildlife conservation and research projects including wolf and tortoise recovery, in their roles at Turner Endangered Species Fund locations in Montana and New Mexico.
San Bruno, CA. Mayor Jim Ruane was on hand to witness Ms. Talbot's students in action, and to acknowledge their accomplishment. Mayor Ruane noted, "On behalf of the City of San Bruno, I'd like to congratulate you, Ms. Talbot, and each of your students - for your creativity in demonstrating your passion for science - and for being selected as National Grand Prize Winners" in the Rocket21 Dream Big Contest. It's exciting to see you all so inspired about science and the environment; there are many challenges to solve and your generation will play a huge role."
Scientists Asher and Wiese spent the morning in hands-on activities with the students, who collected data using authentic equipment that the two use in their ongoing field work. Students completed telemetry activities to experience tracking endangered animals in the wild, created plaster casts of wolf paw prints, practiced making pit tags for endangered animals, studied bones, skulls, furs, and even had the opportunity to role play wolf pack behavior wearing actual pelts. Perhaps best of all, the students learned first-hand what it's like to be a scientist working on the front lines of wildlife conservation and recovery.
Teacher Kathleen Talbot (who encouraged her students to enter the competition) remarked, "This was a fantastic opportunity for my students. With all of the budget cuts it's difficult to give kids experiential learning opportunities, but thanks to Rocket21 and TESF my students had a chance to see a "day in the life" of a real wildlife biologist. I'm sure it's inspired some of my students to pursue a career in science."
The students, who were well-prepared by Ms. Talbot with background for the visit, politely peppered the scientists with questions throughout the visit, and made it clear that they hope the dialogue will continue on Rocket21 once the biologists are back at work in their respective home states.
Wearing a Rocket21 'HOWL" T-shirt, studying his new wolf figurine, and snacking on a district-approved treat, one student summed up the morning by exclaiming, "Science is awesome."
Youth across America were invited to create videos featuring their most inspired, passionate, creative, individual brand of wolf howls, to compete for two extraordinary family trips to Montana. Winning howlers will participate in a wolf conservation and recovery activity dubbed a "howling party" along with biologists and researchers at Ted Turner's Flying D Ranch near Yellowstone Park this summer.
The contest also featured a classroom division, in which classrooms were invited to submit similar videos, to compete for school-based "Howling Parties"; featuring Turner Endangered Species Fund wildlife experts visiting winning classrooms to share their work with participating teachers and students.
The Rocket21and Turner Endangered Species Fund will visit High School winners in Woodland Park, Colorado next week.
Click here for more information about the Competition.
Contest Press Release
About Rocket21
Rocket21 provides unprecedented access to world-class experts and organizations while protecting them with a combination of state-of-the-art, real-time filtering and human moderation, extensive safety and security precautions, and a specialized infrastructure designed to keep kids safe. For more information about Rocket21, contact media (at) rocket21 (dot) com
Like Rocket21 on Facebook. Follow Rocket21 on Twitter.
About Turner Endangered Species Fund
The Turner Endangered Species Fund is a non-profit, private operational charity dedicated to preserving nature by ensuring the persistence of imperiled species and their habitats with an emphasis on private land. The Fund was formed by Ted Turner in June 1997.
For more information about Turner Endangered Species Fund, please contact Mike Phillips at mike.phillips (at) retranches (dot) com.