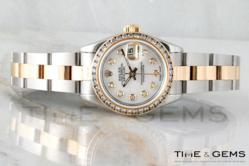 Los Angeles, CA (PRWEB) April 29, 2013
With Mother's Day fast approaching on the second Sunday of May, there is no time better than the present to pick out a gift every mother rightfully deserves. Online luxury watch retailer Time and Gems has unveiled an innumerable number of Rolex watches with prices set to correspond with Mother's Day.
Owning a Rolex watch is no longer as far-fetched a dream as many may think. Time and Gems (http://www.timeandgems.com) is here to ensures that every mother's face will light up with pure unadulterated joy when it is finally time for her annual Mother's Day present-opening. This limited time sales event is one-of-a-kind and buyers are recommended to take advantage of it before it ends.
Some buyers may not realize this, but shopping for a Rolex watch, especially for someone else can be time-consuming and more difficult than expected. Here are two things to keep in mind when considering a Rolex watch for a loved one.
1. Counterfeit versus the real thing
This is one of the biggest challenges buyers face when purchasing used Rolex watches. The first thing the buyer has to do is to ensure that the retailer is reputable. Basic online research and word of mouth can help the buyer weed out uncouth retailers from the authentic ones. Once the buyer has selected a retailer and a Rolex watch he or she wishes to purchase, the next thing to look out for is the Rolex watch's serial number. Buyers must keep in mind that every Rolex watch has its own serial number and this allows the buyer to check the watch's authenticity through the Rolex database.
2. Fashion versus practicality
It is not easy buying something as expensive as a Rolex watch for someone else. Buyers need to understand their mothers' needs and lifestyle practices before choosing a Rolex watch. The Datejust and President ranges are more attuned to those who prefer a cool, calm and indoor-based lifestyle. On the other hand, as its name suggests, the Sports Models are choice watches of those who spend more time outdoors. When shopping for Mother's Day, the buyer should determine which range is more suited toward his or her mother's daily routine.
With over thirty years of experience in this luxury-laden market, Time and Gems is proud to announce that when a buyer garners a statement-making Rolex watch, he or she will walk also away with an authenticity and appraisal certificate, and comprehensive two-year warranty.
In addition to that, if mother decides she would rather another Rolex watch model to better suit her lifestyle practices, buyers need not worry because Time and Gems offers a 10-day exchange policy and no-risk three-day return. The flexibility of returning or exchanging a pre-purchased Rolex watch has never been easier.
When it comes to Rolex watches, any mother will be pleased to call one her very own. Something buyers can pick up for their mothers is the Ladies Rolex Datejust.
Ladies' Rolex Two-Tone Rose Gold Mother Of Pearl String Diamond Dial Beadset Bezel Oyster Band Datejust (Item # 1490R)
Price: $5,545
Today Only: $5,000
(Bank Wire Price : $4,500)
This offers the buyer a total savings of $1,045
To get infomation on other Rolex watches currently on sale in conjunction with Mother's Day and other luxury timepieces, contact Time and Gems' at 1-888-658-5595 or visit http://www.timeandgems.com.