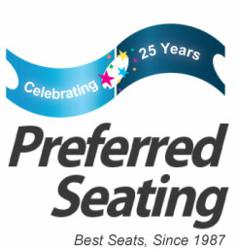 "No band has ever charged this much for a concert in the 25 years we've been in business" said Greg Cullen of Preferred Seating. "And it will be interesting to see the fan reaction to the high ticket prices."
Sacramento, CA (PRWEB) April 05, 2013
The Rolling Stones tickets for the just announced leg of the 50th Anniversary tour will go on sale today through Ticketmaster.com in a special presale for Citibank card holders and to the general public on Monday. The ticket experts at Preferred Seating Tickets have sold tickets for the Rolling Stones tours since 1987 and they are predicting there will be two concerts for each venue and the hardest tickets to find will be the cheapest seats in the upper deck.
The ticket prices released already for the Oakland Arena concert are only showing two price points with the floor and lower level seating priced at $665.85 and the upper level at $171.75. If this is indeed the case then the best deals will be in the first few rows of the upper deck. But those so called cheap seats will be in limited supply and they will be sold out long before the lower deck and floor seats which are priced at almost four times as much. Many of the best seats for the Rolling Stones will be sold in packages that will run up to $1800 and up per seat and that will help limit the number of good seats available at face value.
The best chance for fans to get their hands on Rolling Stones tickets at the face value will be to try both the pre-sale on Friday and the regular sale on Monday the 8th. The Stones are expected to add an additional night to each city and fans can expect those to go on sale immediately after the first concert sells out. So for those pounding the keyboard on Monday at 10 am the trick is to not give up and watch for a second Stones concert to more than likely go on sale within the hour. "No band has ever charged this much for a concert in the 25 years we've been in business" said Greg Cullen of Preferred Seating. "And it will be interesting to see the fan reaction to the high ticket prices."
For the Rolling Stones tour to skip the much of the country and book 4 cities in California out of 8 in the US should indicate that this is just one leg of the tour. The marketing geniuses for the Rolling Stones have been milking the 50th Anniversary of the Stones for all it's worth and will most likely announce a 2nd leg to cover the South and parts of the Midwest sometime in the near future.
Preferred Seating Tickets is a leading supplier of concert, sports and theater tickets and has been providing fans with some of the best seats to sold out events since 1987. All of the Rolling Stones tickets sold at PreferredSeat.com are guaranteed be authentic and there are never any hidden service charges.