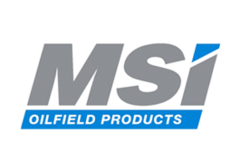 We made a commitment to the industry and we want to be there to support it.
Houston, TX (PRWEB) December 13, 2012
SA4i is proud to announce the latest in innovation from MSI Oilfield Products, the MSI MaxX Thread Protector.
Houston based MSI Oilfield Products developed an innovative thread protector to meet the new API 5CT ANNEX-I 9th Edition standards. John Boben, President of MSI Oilfield Products stated, "A lot of what's happening in our industry today is a result of events that have occurred over the last several years regarding safety and the desire to be a better steward of the environment. We wanted to make sure that we developed a product that would guarantee quality pipe and thread protection while being able to install and remove safely on pipe at a pipe mill or out on the rig site."
The MSI MaxX is formulated from a new plastic resin, engineered with the use of ribs, stiffener support and diaphragms to provide the highest level of thread protection in the oil industry. The patented design was tested by Stress Engineering to meet the impact and dimensional stability standards and the MSI MaxX was certified as meeting all combinations of the API 5CT Annex-I 9th Edition. "We made a commitment to the industry and we want to be there to support it," says Boben.
MSI, a Filtrona subsidiary, will continue to adhere to the highest standards for both quality and customer service, evidenced by improvements such as the plant expansion that will accommodate 30 injection molding machines. The facility, which cost about $20 million, is one of the largest of its kind in the world and will eventually produce 3.5 million thread protectors a month.
SA4i (Strategic Advisors for the Internet) is an online marketing group representing MSI Products and a wide variety of clients. For more information, please contact us at 281-661-8900 or visit the SA4i website.