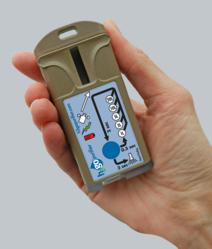 I am always looking for a water treatment system which is more efficient, smaller, lighter, simpler and easy. I am very excited to learn about the H2gO Purifier, which seems to fit all those criteria." -- Dr. David Chagala
Albuquerque, NM (PRWEB) April 02, 2013
The H2gO Purifier is a result of one company's quest to create the world's best personal water purifier, focusing on ease of use, simplicity, and affordability. This handheld, 3-ounce device makes water safe to drink with only 2 button clicks, never needs replacement parts, and was designed for extreme environments. The water treatment device is ideal for campers, travelers, and natural disasters and will be available July 2013 at a price of $80. For a limited time, the water purifier is also available at the company's Indiegogo campaign for only $55, plus contributors can donate purifiers to emerging nations.
According to the World Health Organization, over 3.4 million people die each year from waterborne disease. Water disinfection is one of the most effective interventions to save lives, but a large proportion of people in poor economies stop disinfecting due to complexity and on-going cost. In contrast, the H2gO Purifier is sustainable even for people at the poverty line because it is both simple to use and free to operate. Inventor Rodney Herrington says, "We believe in challenging the status quo – in the possibility to change the course of the world. The H2gO Purifier is relevant not only for the developed world, but it can be used as an income generator by entrepreneurs in emerging nations. We're changing lives one person at a time."
The H2gO Purifier works by converting a few grains of common salt to a powerful disinfecting solution in a matter of seconds. It treats 1 to 20 liters of water at a time. It's driven by a cell phone battery that can be charged by the integrated solar panel or USB, able to treat 300 liters of water per charge. Only one hour of sunlight makes 5 liters (over 1 gallon) of safe water. There is even an LED flashlight for night-time operation. Tufts University Professor Daniele Lantagne says, "I have provided technical assistance and evaluation of emergency water treatment projects in over 40 developing countries in the last 12 years. I am looking forward to testing the H2gO Purifier in Haiti, to assess the effectiveness of this sustainable device in reducing the risk of waterborne cholera."
The H2gO Purifier was developed by Aqua Research LLC via private funding. The company recently launched the product at the crowdfunding site Indiegogo.com to speed up commercialization and allow others to pre-purchase the product at a significant discount over retail. For more information, visit h2gopurifier.com.
About Aqua Research LLC and H2gO Purifier
Aqua Research of Albuquerque, NM, was formed to serve the water needs of mankind. Founder Rodney Herrington also invented the MSR MIOX Purifier, Popular Science Grand Award Winner in 2003. Experiences with this device have informed design decisions on the H2gO Purifier.