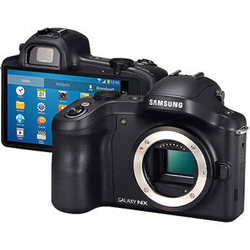 Samsung announced its new Galaxy NX mirrorless camera, Android-powered 4G mirrorless digital camera.
NYC, NY (PRWEB) June 20, 2013
Samsung Galaxy NX digital camera incorporates a 20.3MP APS-C CMOS Image sensor that's 24mm in size. It's powered by Samsung's DRIMe IV processor, which it says is 4x faster than its previous processor. The device supports up to 25,600 ISO, and it's the same family of interchangeable lens as Samsung's prior MILCs.
The Samsung Galaxy NX camera runs Android 4.2.2 skinned with a version of Samsung's TouchWiz UI tweaked to make sense for the camera format. This means the UI defaults to the camera app view. Swiping left from there brings up a familiar Samsung Android home screen where users can get at all the usual Android stuff including Google Play, the web browser, plus apps — like Instagram, say. And that's the obvious use-case for a bit of kit like this: being able to post near-SLR quality photos direct to apps like Instagram or share on social media, without even having to pull the photos off the camera first. The Galaxy NX has both 4G/LTE and Wi-Fi built in. It is Samsung's first interchangeable lens camera to include LTE, in fact.
Samsung Galaxy NX Mirrorless Digital Camera Highlights:
•Android 4.2 Jelly Bean Operating System
•20.3MP APS-C CMOS Sensor
•DRIMe IV Image Signal Processor
•Wi-Fi and 3G/4G LTE Mobile Connectivity
•4.8" HD TFT-LCD Touchscreen Monitor
•SVGA 0.46" Electronic Viewfinder
•Full HD 1080p Video Recording at 25 fps
•Advanced Hybrid Autofocus System
•Continuous Shooting Rate Up to 8.6 fps
•Samsung NX Lens Mount
B&H Photo, a qualified Samsung Authorized reseller with the most up to date Samsung product information, product pricing and individual promotional offers. B&H Photo is currently accepting pre-orders on Samsung Galaxy NX Mirrorless digital camera.
Connect with B&H Photo on the web. (Facebook, Twitter, Tumblr, Google+, Pinterest, Flickr, YouTube, B&H Insights & InDepth)
About B&H Photo Video
As the world's largest source of photography, video and audio equipment, B&H Photo-Video is known worldwide for their attentive, knowledgeable sales force, and excellent customer service, including fast, reliable shipping. Visitors to the website can access a variety of enlightening articles and educational videos. B&H has been satisfying customers worldwide for close to 40 years.