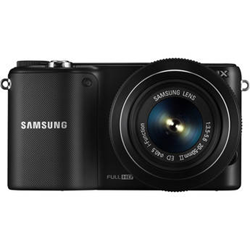 Samsung just announced the stylish NX2000 mirrorless digital camera with 20-50mm lens, featuring 20.3 effective megapixel APS-C CMOS sensor, wide ISO range (100 to 25600), Near Field Communication
NYC, NY (PRWEB) May 01, 2013
Samsung Electronics announced a new addition to its award-winning NX family, with the launch of the NX2000 mirrorless digital camera. A stylish, slim compact system camera (CSC), the NX2000 combines outstanding, professional results with revolutionary Samsung SMART Camera technology. Photos and movies can be captured with ease and immediately shared with friends and family in stunning clarity.
The large 20.3MP ASP-C CMOS Sensor in the Samsung NX2000, produced entirely by Samsung in-house, produces extremely sharp and highly detailed images. Even in low light conditions images burst with color. Designed to continuously deliver high quality images, the NX2000's capabilities are boosted by its DRIMe IV engine which works to reduce noise, improve speed and enable superior color reproduction.
With 8fps fast continuous shooting, the NX2000 can effortlessly keep up with the fast pace of life today, so that no moment is missed. Whether the subject is quickly moving or the photographer is on the run, the 1/4000th second top shutter speed makes taking clear, blur free images an achievable task, while the wide ISO range (100 to 25600) helps to deliver images that are beautifully balanced, regardless of the light conditions. The NX2000 works faster and harder to capture every detail, so people can re-live stories in dynamic realism.
Ease of use is intrinsic to the Samsung NX2000 and the large 3.7-inch WVGA Full Touch Screenprovides a convenient and intuitive navigation tool to access a range of features. Slim and modern, the bright screen is simple and quick to use, making it easier than ever to control all aspects of the camera. SMART mode provides even more options to aid you in taking the perfect shot, offering 14 different scene modes, a selection of settings which reflect your shooting environment and needs. Users can take photos of fast-moving subjects, such as a child running, with Action Freeze or capture everyone's "good side" with Best Face which takes five consecutive photos and lets the user select the best facial expression of each person in the picture. Users simply select the mode that fits their needs and enjoy the expert results.
With a choice of 12 interchangeable lenses, aspiring photographers have improved control over the images they shoot with the NX2000. From ultra-compact pancake lenses and versatile zooms, to a premium portrait lens and a macro lens, the wide lens selection only enhances the photographic experience. Samsung's innovative i-Function system allows users to further unleash their creativity by controlling various settings with the lens, such as the aperture or shutter speed, so professional-quality images are more achievable than ever.
Enhanced Wi-Fi Connectivity is at the heart of the NX2000 camera, enabled by Samsung's SMART Camera 2.0 technology, offering a host of functions which make it easy to share and store images directly from the camera. The Samsung SMART CAMERA App, available on both Android and iOS platforms, provides a streamlined way of linking smart devices, ensuring that every tech savvy user's treasured memories are stored without fuss. AutoShare sends photos, as they are taken, directly from the NX2000 to a smartphone or tablet, via a direct Wi-Fi connection. Special memories can be shared instantaneously from the smartphone when users aren't connected to an access point, and images are also instantly backed up for those who are constantly on the go and don't have time to worry about storage.
The integrated Near Field Communication (NFC) technology seamlessly links the NX2000 to many NFC-enabled Android smartphones and tablets. Simply tap the camera with the smart device and NFC immediately launches the Samsung SMART CAMERA App and automatically pairs the device via a direct Wi-Fi connection. Additionally, users can sync their favorite social website, such as Twitter, Facebook and Google+ to the dedicated Direct Link hot key, for menu-free simplified sharing with the touch of one button.
True to its commitment to capturing professional quality images, the NX2000 also includesAdobe® Photoshop® Lightroom® 4, bolstering its offering to advanced photographers. With an array of tools, Adobe Photoshop Lightroom is the essential photography workflow application allowing photography enthusiasts and professionals to enhance, organize and share photos.
B&H Photo Video is currently accepting pre-orders on Samsung NX2000 mirroless digital camera
About B&H Photo Video
As the world's largest source of photography video and audio equipment, B&H Photo-Video is known worldwide for their attentive, knowledgeable sales force, and excellent customer service, including fast, reliable shipping. Visitors to the website can access a variety of enlightening articles and educational videos. B&H has been satisfying customers worldwide for close to 40 years.