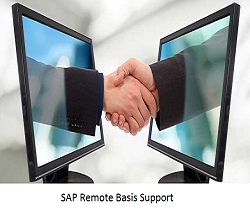 The advantage of WFT managing client's support for Basis drastically reduces the client's operational management costs (OpEx) and enables them to concentrate on their core business
Princeton, NJ (PRWEB) April 23, 2013
Wharfedale Technologies, Inc. (WFT, WFT Cloud), today announced that it has started offering enterprise-class, remote services for Basis to customers at a fraction of the traditional costs.
WFT Remote support service for Basis is a comprehensive, operational management offering that helps customers to improve the quality of overall support operations for Basis while reducing the operational overhead involved in managing IT landscapes running SAP® solutions.
This service includes the following:

Enterprise-class support for Basis
Daily health checks to Service Pack upgrades
ITIL-based service desk
Toll free number access
Pre-defined SLAs
Support for entire SAP application suite
Highly scalable from a few servers to thousands of servers
Support for physical, virtual and cloud environments
All of these features are being offered with a simple cost structure of USD $2.29 per hour per server.
"Providing enterprise-class, remote support services for SAP Basis presents a tremendous opportunity for WFT and our clients," said Ganesh Radhakrishnan, CEO of WFT. "The advantage of WFT managing client's support for Basis drastically reduces the client's operational management costs (OpEx) and enables them to concentrate on their core business; it also helps clients to refocus their IT on innovation rather than on operations management."
WFT Cloud is an SAP-certified provider of hosting and cloud services. WFT leverages SAP best practices when operating IT environments running SAP solutions to deliver high-quality services in support of SAP solutions to its clients.
About Wharfedale Technologies Inc.
Wharfedale Technologies Inc. (WFT Cloud) is a leading technology consulting firm specializing in infrastructure integrations and services in support of SAP solutions, as well as private/public hybrid cloud solutions. WFT is an SAP-certified provider of cloud and hosting services and offers solutions for high availability, disaster recovery, advanced sizing for virtualization, backup/recovery Integration, systems refresh automation and landscape optimization.
For more information on Wharfedale and WFT Cloud services, please visit http://www.WFTCloud.com or call us at (888) 533-3113.
# # #
SAP and all SAP logos are trademarks or registered trademarks of SAP AG in Germany and in several other countries. All other product and service names mentioned are the trademarks of their respective companies.