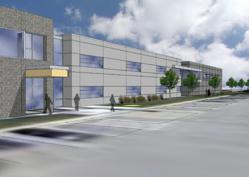 We are excited about creating the region's first flexible manufacturing lab at the SC Johnson iMET Center and honored by SC Johnson's trust in Gateway's ability to deliver results to our communities and its employers. -- Gateway President Bryan Albrecht
Sturtevant, Wisconsin (PRWEB) February 08, 2013
Local, state and national experts will provide hands-on demonstrations as well as speak at Gateway Technical College's grand opening Feb. 12 of its expanded SC Johnson integrated Manufacturing and Engineering Technology (iMET) Center, 2320 Renaissance Blvd., Sturtevant.
A number of business and statewide speakers – including Wisconsin Secretary of Workforce Development Reggie Newsom and SC Johnson chairman and CEO Fisk Johnson – will speak at the grand opening which is preceded by several national experts providing demonstrations on the modern and cutting-edge equipment of the new facility.
This is the first flexible manufacturing lab in the region, dedicated to short-term, customized training.
The public is invited and encouraged to attend the event. The grand opening ceremony begins at 11:30 a.m.
Grand opening speakers include Wisconsin Secretary of Workforce Development Reggie Newsom; Fisk Johnson, chairman and CEO, SC Johnson; Brent Weil, National Association for Manufacturing; Tom Still, president, Wisconsin Technology Council; and Gateway President Bryan Albrecht.
National experts will be on hand giving seminars on relevant topics for local manufacturers, from 10:30 a.m. to 11:15 a.m. Those include:

National Manufacturing Skill Standards and Certifications. Presented by Leo Reddy, CEO of MSSC. Gateway was among the first colleges to integrate MSSC certifications into program areas. Learn about these national certifications in Safety, Quality, Production, and Maintenance Awareness, what they represent and how they align with national skills standards.
STEM Academy. Presented by Dr. Alan Gomez, Chief Academic officer, the STEM Academy. The STEM Academy's mission is to foster literacy for all students through the establishment of a National STEM Professional Learning Environment dedicated to the continuous improvement process based upon researchable student outcome data. Learn about the rigorous, comprehensive and innovative K-12 programs designed for all learners which include evaluation tools measuring full STEM literacy and competencies.
Industrial Design Fab Lab prototyping demonstrations presented by Gateway faculty, industry representatives, First Technologies, and MIT. Industrial Design Fab Lab is a workspace containing a variety of computer controlled tools that allow for the manufacture of nearly anything an individual can conceive and encourages innovation and project collaboration. Opportunities exist for start-up and existing companies of all sizes.
Equipment demonstrations will be provided in the center prior to the ceremony, from 10:30 a.m. to 11:15 a.m.
Visitors can experience Tarnowski Hall, the region's first flexible manufacturing training lab that includes computer numerical control machining, welding, metal fabrication, automated manufacturing systems and industrial robotics in addition to classroom and apprenticeship training space. The hall is named after the late Otto Tarnowski, who provided generous support for its creation.
Equipment demonstrations will also be given at Gateway's first Fab Lab, which focuses on industrial design and rapid prototyping. The lab – part of a national network initiated by the Massachusetts Institute of Technology – uses computer controlled tools to allow for the manufacture of nearly any prototype that can be conceived.
SC Johnson will announce a donation to the center at the event.
The center is a 18,000-square-foot addition to an existing Gateway building, which will be a regional workforce training center aimed at addressing skilled worker shortage experienced by manufacturers today.
The grand opening will be Web cast on Gateway's Web site.