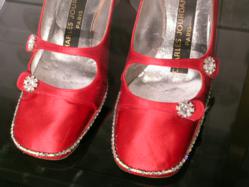 Kansas City, MO. (PRWEB) December 04, 2012
The aptly named fashion themed website Ashoeinfashion.com today announced that the website is upgrading its coverage in order to feature more features about music. The blog site recently highlighted accolades bestowed on Scott Tucker, a wedding DJ and emcee from the Irvine, CA. based Invisible Touch Events.
After receiving some interesting responses from its readers, the editor of fashion blog site has stated that the site will now feature more music stories, news, reviews, features and interviews. "Anyone who's interested in fashion knows the link between fashion and music is a strong one that can be traced right back to the earliest days of the runway. After the readers of the site let it be known they would like more music features on the site the decision to expand was made quite quickly." said Lucy Boxall, editor of Ashoeinfashion.com.
Ashoeinfashion.com is a relatively new blog forum having been launched a little over a year ago. The European styled website currently has sections called 'Fashionista', J'Adore-Fashion', I Am Fashion' and 'Bleed For Fashion'. According to the editor, Lucy Boxall, the website will expand these sections to add a musical flavor highlighting the links between fashion and music.
Ashoeinfashion.com is the hottest blog forum on the web where fashion fans can find everything related to the latest fashions and where to wear them from around the globe. It features news, reviews, fashion tips, and of course lots of fabulous pictures. Visit http://ashoeinfashion.com to find out more about what's hot and what's not.