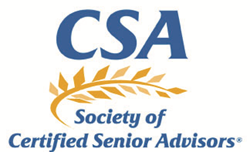 One of the exciting things about CSA is the role of continuing development and education through a variety of means
Denver, CO (PRWEB) April 09, 2013
Director of Academic Affairs at AARP and plenary session speaker, Dr. Harry (Rick) Moody, is interviewed by President of Aging Better Together, Gerontologist and CSA Journal Editor in Chief Janice Blanchard, CSA on the advantages of being a Certified Senior Advisor (CSA) and the benefits members received from the continuing education available at events such as the 2013 Building Knowledge and Empowering Networks Conference coming to Orlando, FL. Watch the interview now.
Dr. Moody speaks out on the demographic transition America is facing with thousands of Baby Boomers turning 65 each day and the opportunity this change brings for skilled professionals able to work with seniors. Moody highlights the importance of the Affordable Care Act and its impact on the healthcare system, a topic that will be covered heavily at the CSA Conference this August. According to Moody "Certified Senior Advisors are the primary care advisors, they deal with the entire spectrum of aging and its options and challenges."
A key benefit in earning and maintaining the CSA Certification is the educational value of the continuing education available through the Society of Certified Senior Advisors. According to Moody, "One of the exciting things about CSA is the role of continuing development and education through a variety of means." SCSA offers CSA CE for attendance of the CSA conference, educational webinars, Case In Points in the CSA Journal, participation in the CSA Publications, Course Audits and more! Becoming a CSA is about much more than passing a test and the three letters behind your name – it is a commitment to serving seniors more effectively with enhanced learning and ethical standards.
About SCSA
SCSA educates and certifies professionals to work more effectively with their senior clients. As the leading provider of certification for professionals serving seniors, SCSA's Certified Senior Advisor (CSA)® credential requires CSAs to uphold the highest ethical standards for the benefit and protection of the health and welfare of seniors. Accredited by the National Commission for Certifying Agencies, the CSA credential is the gold standard for professionals in all areas who work with the senior population. Through a comprehensive educational program, SCSA helps professionals understand the key health, social and financial issues that are important to the majority of seniors.