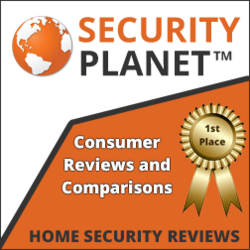 View the security system company rankings at SecurityPlanet.com.
Albany, NY (PRWEB) May 01, 2013
SecurityPlanet.com has taught thousands of consumers on what to look for when selecting a home security monitoring company. The easy to read reviews and detailed comparisons make SecurityPlanet.com the resource consumers prefer for unbiased and impartial home security reviews. SecurityPlanet.com recently finished conducting their evaluations of the leading burglar alarm system companies in the state of New York. Reviews of each state are completed yearly and the top rated home security alarm system companies are rated. Each and every burglar alarm system company is rated on various aspects including monitoring, equipment and technology to name a few.
New York is home to 12,742,886 consumers. As reported by the 2011 FBI Uniform Crime Report there are 283,179 property crimes each year. Consumers of New York have security on their mind and now have an unbiased resource to help them select the best security system for their family. The most important factors when considering a home security systems provider to New York homeowners were customer service and cost.
Gavin Anders from SecurityPlanet.com states, "The SecurityPlanet.com team learned that New York residents were concerned about reliability and the majority of consumers favored cellular monitoring services mainly because there aren't any wires at risk outside the home. The staff at SecurityPlanet.com have seen a big interest in cellular home security systems because of the increased reliabiliy and safety."
FrontPoint Security was awarded as the top home alarm system provider in the state of New York. FrontPoint Security provides great service to their customers and gives customers a 30-day money back guarantee. Aimed at delivering customers with wireless home security systems from GE Security in addition to interactive cellular monitoring services is making FrontPoint Security well liked among buyers in New York. Close to FrontPoint Security, the two other top rated home security companies are Protect America and ADT Security. Protect America, headquartered in Texas, offers home security services across the nation by furnishing their customers with GE Security equipment backed up by a lifetime warranty. ADT Security has over 6 million customers nationwide, keeps an excellent Better Business Bureau rating and offers their customers professionally installed home security systems.
SecurityPlanet.com found that New York homeowners were attracted to the mobile featues that the top security companies offer. Security companies like ADT Security offer customers mobile access to remotely arm and disarm the home alarm system from anywhere there is an Internet connection. Some New York consumers stated they might reap the benefits of the services that allow for streaming of wireless home security cameras directly to an iPhone or Android device. Homeowners in New York can read more information about the leading security system companies online at: SecurityPlanet.com - Home Security Reviews
About SecurityPlanet.com
SecurityPlanet.com is dedicated to delivering homeowners with the best home security system information available. SecurityPlanet.com presents side by side comparisons in an easy to use format so shoppers can quickly find the information they are searching for. Centering on delivering 3rd party reviews and side by side comparisons, SecurityPlanet.com also puts out informative advice associated with home security and safety to help families lead a healthier and more secure lifestyle. Visit SecurityPlanet.com for additional info on the leading alarm system companies.