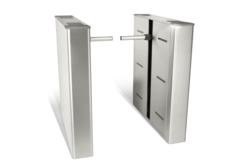 Fastlane optical turnstiles were an obvious choice for the movie set as over one-third of the fifty largest U.S. businesses rely on Fastlane...
Austin, TX (PRWEB) June 13, 2013
Smarter Security, Inc., provider of premium, innovative entrance control and outdoor security solutions, today announced Fastlane® Plus security turnstiles are featured in the recently released motion picture "The East." In a movie that somewhat reflects real life, American businesses must secure themselves from terrorist operations, and Fastlane Plus meets the design and technology sophistication found within global corporations seeking the best security for their building lobbies.
"While the nature of the terrorism in The East is unusual, the need for high levels of security at major corporations is not," said Jeff Brown, CEO of Smarter Security. "Fastlane optical turnstiles were an obvious choice for the movie set as over one-third of the fifty largest U.S. businesses rely on Fastlane to secure building lobby entrances. We work hard to help protect corporations in the real world and are pleased to do the same in an entertaining and thought-provoking movie out this summer."
Two lanes of Fastlane Plus from Smarter Security appear in the film during a scene in a Class A office building lobby where they assist in controlling access and complement the lobby aesthetics with their sleek styling. The movie depicts the cutting-edge practice of employing smartphones and near field communication (NFC) for user authorization. The Fastlane brand routinely introduces technology advancements to the optical turnstile market and also works seamlessly with other access control innovations, such as NFC.
Fastlane Plus is a line of barrier arm optical turnstiles offered by Smarter Security. The company offers the broadest selection in the industry, which includes Fastlane Glassgate® with swinging glass barriers up to six feet high, Glasswing with retracting barriers, and barrier-free models, such as the unique and patented Clearstyle. High-rise office buildings, government organizations, and companies frequently install optical turnstiles to strengthen entry control and reduce the time for workers to get through lobby security checkpoints; Fastlane is the market leader by a wide margin, per IMS Research.
The East is an American-based film that opened on screens throughout North America in the past two weeks. It is a thriller where a spy, played by Brit Marling, from a private intelligence firm infiltrates an eco-terrorist group that wages campaigns to protest the excess and ill-effects of major corporations. Learn more about The East here: http://www.foxsearchlight.com/TheEast/.
About Smarter Security, Inc.
Smarter Security provides premium and innovative entrance control and outdoor security solutions to help organizations protect their people and assets in a world of ever-present threats. Since 1992, Smarter Security has offered Fastlane turnstiles, the most elegant and intelligent optical turnstiles available, which protect thousands of commercial and governmental lobbies on six continents. Smarter Security also offers perimeter intrusion detection systems, including SmarterFence, a fiber optic fence-mounted sensor. For more information, please visit http://www.smartersecurity.com.
Fastlane and Fastlane Glassgate are registered trademarks of Integrated Design Limited.
# # #