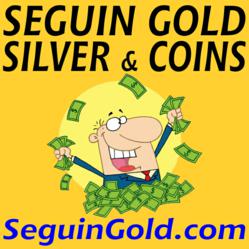 Amazing service! Amazing offers! Really honest and respectful!
Seguin, Texas (PRWEB) April 29, 2013
The national gun debate has fueled a greater demand for firearms and ammunition, to the point where many gun dealers are consistently sold out of many items. In the Texas town of Seguin, located 30 miles northeast of San Antonio, a local gold and silver buyer, Seguin Gold Silver & Coins recognized this demand and has recently announced that it will establish a new division of the business - Seguin Guns and Ammo.
The town of about 25,000 had two gun shops that sold new and used guns, in addition to one Wal-Mart that offers a limited supply of rifles and ammunition. After the 2012 election, one of those gun dealers closed down their shop, which left a void and decreased the local supply even more. The owner of Seguin Gold Silver & Coins, Jorge Gurza, wishes to fill that void and is taking steps to establish a new business to meet the current and increasing demand for guns, ammunition and accessories.
When completed, the new gun shop dealer will offer various handguns, rifles, shotguns (both new and used), ammunition, holsters, ear and eye protection and other accessories.
Seguin Gold Silver & Coins has the advantage that their business venture has been looked upon favorably by both local citizens and law enforcement, with some even giving the owner advice, guidance and offering to train customers in the proper handling and safety of firearms. With the creation of Seguin Guns and Ammo, the precious metals buyer hopes to provide the public with quality products at an affordable price, and to educate those law abiding citizens who choose to protect themselves and their right to bear arms.
Seguin Gold Silver and Coins is open every day 7 AM to 11 PM. They buy gold, silver, platinum, jewelry & coins. They serve Seguin, New Braunfels, McQueeney, Gonzales, Luling, San Marcos, La Vernia, San Antonio, Austin & other Texas cities.
For more information call (830) 556-1966
Para informacion en Español llame (830) 556-1966
###