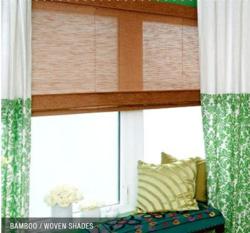 Helping the environment is very important to our company. That is why we offer the top rated, top reviewed eco-friendly products on our website, and why I use them in my own home.
Phoenix, AZ (PRWEB) April 20, 2013
SelectBlinds.com (http://www.selectblinds.com), the highest rated and most reviewed online window coverings store, has announced Buy 3 Get 1 Free discounts on their most popular environmentally friendly products to celebrate Earth Day.
April 22nd marks the 43rd anniversary of Earth Day. Conceived in 1970, Earth Day is the brainchild of then Wisconsin Senator, Gaylord Nelson. The annual event brings eco-friendliness to the forefront of America's consciousness, which in itself is quite a feat, but perhaps the most broad reaching positive impact of this important date is that it led to the creation of the environmental protection agency, better known as the EPA (http://www.epa.gov/).
The makers of everything from cars to drink containers, like to advertise that their products are eco-friendly. Most products are not necessarily helping the environment; they are simply not harming, or harming it less, than their main stream competitors. The only way for any eco-friendly product to be effective is if people use it. There are plenty of home decor and home improvement products that are eco-friendly that one can buy.
Window coverings are a great example. Eco-friendly window coverings? That sounds pretty impressive, but what is it that defines a window shade as eco-friendly? Select Blinds, maker of the highest rated, most reviewed window shades on the internet, measure up to the "green" standard based on two different sets of criteria. The first is the product itself. The question is will the manufacturing of the product harm the environment? If the answer is "no", then that product can be classified as eco-friendly. Bamboo shades fit the bill here. Bamboo is one of the fastest growing plants on the planet, allowing for harvesting of the plants without stripping the land, thus having no negative impact on the environment. Bamboo shades are more than a window shade that qualifies as eco-friendly. They are attractive, durable, and for the do-it-yourself, or the not DIY-er, they are relatively easy to install.
The second way that a product can qualify to be called eco-friendly is that the product is earth friendly, meaning that it helps improve conditions that impact the environment. In the case of window coverings, Select Blinds offers a myriad of earth friendly products.
"Helping the environment is very important to our company," states Al Silverberg, CEO of SelectShops.com. "That is why we offer the top rated, top reviewed eco-friendly products on our website, and why I use them in my own home."
Honeycomb shades are an Earth Day worthy, eco-friendly, environmentally helpful window shade, because improve home insulation. To be fair, windows themselves provide a certain amount of insulation. They may even be double-paned, but they still allow the heat or cold to seep into the home, resulting in more energy consumption from air conditioners and heaters. Honeycomb shades are fabric window coverings that are constructed with an air filled pocket that adds a layer of insulation beyond that provided by the window. This results in keeping out the heat or cold that gets past the window, thus requiring less energy to be expended to keep the desired indoor climate.
In celebration of Earth Day, Select Blinds is offering deep Buy 3 (or more) Get 1 Free discounts on their highest rated eco-friendly window coverings, including bamboo shades, solar shades, roller shades, honeycomb, cellular, pleated, and roman shades, all of which offer various levels of eco-friendly insulation, manufacturing, and design elements.
Learn more about the Select Blinds Earth Day sale going on now at SelectBlinds.com.