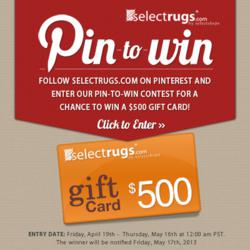 Pinterest is a great place to lay out room design ideas and we hope consumers will be inspired by the design, shapes, and colors of our fashionable rugs
Phoenix, AZ (PRWEB) May 05, 2013
Just in time for the end of the school year and warm temperatures, Select Rugs is launching their Pin to Win contest through Facebook. The lucky winner will receive a $500 gift card that can be used toward the purchase of any rugs or rug products on SelectRugs.com, including outdoor rugs perfect for decking out summer barbecues and get togethers. The contest is running from now, until 11:59pm on May 16th and the winner will be randomly selected and announced on May 17th.
Entering is easy and fun! Participants can enter by visiting this link, entering first and last name, email address, following Select Rugs on Pinterest, and pinning three images from the images provided. To offer more chances to win, Select Rugs is awarding 3 bonus entries when entrants share the contest with their friends on Facebook.
"Pinterest was our contest destination of choice because of its focus on visual appeal and the large interior design base that uses the website. More and more, customers turn to sites like Pinterest to get design inspiration ideas for their DIY projects and home improvement projects. Pinterest is a great place to lay out room design ideas and we hope consumers will be inspired by the design, shapes, and colors of our fashionable rugs," stated Select Rugs V.P. of Operations, Nate Kennedy.
To inspire Pinterest users to make their design dreams into reality, Select Rugs is offering 40% off all orders and additional savings for clearance products. Combined with standard free shipping, the discounts cannot be beat on popular rug brands and products.
Headquartered in Gilbert, AZ, SelectRugs.com offers competitive pricing, security and convenience, online shopping, live assistance, customer satisfaction guarantees, and strong warranty programs on all of its products. For more information, please visit http://www.selectrugs.com.