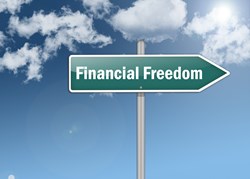 The Solo 401k offers a powerful retirement strategy.
Ontario, CA (PRWEB) May 02, 2013
Last Saturday concluded the popular conference "2-Day Total Wealth: Roadmap to Attaining Indestructible Wealth" in Ontario, CA. The highly attended event drew attendees from throughout Southern California to learn strategies for increasing wealth, achieving peak performance, and creating a legacy. The conference presented a holistic view of wealth that incorporated financial, mental, and physical well-being.
One aspect of achieving total wealth includes creating income that will leave a legacy for the future. A featured guest speaker was the president of Sense Financial Services, California's leading provider of self-directed retirement accounts. "The Ultimate Retirement Plan" highlighted retirement strategies for building lasting wealth, including the self-directed Solo 401k.
Known as the Individual k or Solo 401k, the IRS-qualified retirement plan is a traditional 401k that has been simplified for the self-employed and small business owner. The structure of the account affords several advantages, such as high contribution limits. Because the plan allows contributions to be made as both employee and employer, the resulting Solo 401k contribution limit is higher than most plans. In 2013, the IRS raised Solo 401k contributions to up to $51,000 per year for those who are below the age of 50. The limit was raised to $56,500 for those age 50 and above.
Checkbook control is a key feature of Sense Financial's self-directed retirement accounts. Participants have direct access to account funds enabling investments to be made quickly. The account can be invested with the simple act of writing a check or wiring funds from the account. Because the participant is the trustee of the account, he or she can direct funds without custodian consent.
The structure of the account allows investment into both traditional and non-traditional assets. Funds from the account can be invested in real estate, private businesses, precious metals, tax liens and tax deeds, and notes. The unlimited investment capability of the Solo 401k enables true diversification of retirement savings.
The Solo 401k also includes a Roth sub-account which is funded by after-tax contributions. The Solo 401k Roth presents various tax benefits, including tax-free growth, tax-free investments, and tax-free distributions. Distributions from the account are tax-free once the account has been held for five years and the participant reaches age 59 ½. The Solo 401k Roth account can also be passed onto beneficiaries tax-free.
The options afforded by the Solo 401k allow participants to experience freedom and control that is rare among retirement plans. Incorporating the plan can be a valuable retirement strategy. The account diversifies tax burden and provides a source of tax-free income in retirement. It can be part of a retirement strategy and a tax-free vehicle to pass funds to the next generation. The Solo 401k can be used to leave a legacy for the future generation, which is a part of achieving total wealth.
The conference was sponsored by Logos Lifetime University and featured the president and founder, Paul Mata. A well-known conference speaker, Mr. Mata works with his clients to design a personal financial plan incorporating their life goals, personal values and money rules. His company strives to help clients create and manage wealth.
About Logos Lifetime University:
Logos Lifetime University equips and educate clients in living an abundant life. Their approach incorporates founder Paul Mata's proprietary True Wealth process which includes growing four areas of assets- financial, physical, intellectual, and exceptional. The company seeks to provide a resource for lifelong learning, including coaching, programs, research, and workshops.
About Sense Financial Services:
Sense Financial is California's leading provider of retirement accounts with "Checkbook Control": the Solo 401k and the Checkbook IRA. Over the years, they have assisted hundreds of clients obtain checkbook control over their retirement accounts while providing them with the ability to invest in virtually any investment class, including real estate, private lending, mortgage notes and much more without the need for custodian approval.
To learn more about the solutions they provide, please contact: (949) 228-9393.