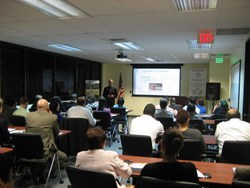 Great presentation, opened my eyes on how to obtain control of my retirement account.
Los Angeles, CA (PRWEB) January 12, 2013
On Saturday, January 12th, Dmitriy Fomichenko, President of Sense Financial Services LLC, will be one of the featured speakers at The Olympic Collection Banquet & Conference Center located in Los Angeles, CA, about investment strategies with foreclosure properties. This event will teach the strategies needed to find and buy foreclosure properties. General topics will include foreclosure forecasting, judicial and non-judicial foreclosure, financing the foreclosure, and compliance with California foreclosure laws.
Mr Fomichenko will speak about the self-directed Solo 401k Plan, a retirement solution for the small business owner or self-employed individual who wants to use his retirement savings for investment purposes. The Solo 401k (also known as Individual 401k or Owner-only 401k) allows those who work for themselves or own a business without any full-time employees to invest in real estate, tax liens, tax deeds, businesses, precious metals, and any other non-traditional investments.
Unlike other plans, the Solo 401k enables the account owner to exercise control over his investments without the expense and delays associated with a custodian. The Solo 401k also allows investments to be made on a tax-free or tax-deferred basis.
Below are additional features of the Solo 401k that will be covered in the presentation:

What is a Solo 401k?
Solo 401k rules
Solo 401k contribution limits
Solo 401k loan feature
Comparing SEP vs. Solo 401k
The event will start at 9:00 am and end at 6:00 pm. Mr. Fomichenko will also be available at the event to speak to those who are interested in obtaining control of their retirement accounts and utilizing the powerful features of the truly self-directed Solo 401k.
Those who wish to attend may contact Sense Financial at (949) 228-9393.
Sense Financial Services LLC is California's leading provider of retirement accounts with "Checkbook Control": Solo 401k and Checkbook IRA. Over the years, we have assisted hundreds of clients to obtain checkbook control over their retirement accounts while providing them with the ability to invest in virtually any investment class, including real estate, private lending, mortgage notes and much more without the need for custodian approval.
To learn more about the Solo 401k, please visit: http://www.sensefinancial.com
# # #