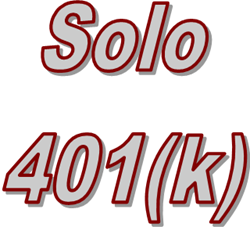 The Solo 401k contribution limits have been increased in 2013
Los Angeles, CA (PRWEB) January 24, 2013
Recent changes by the IRS have increased the annual contribution limits for 401k plans. The maximum Solo 401k contribution limit was raised an additional $1,000 per year. The Solo 401k (also known as the Individual 401k and the Single-participant 401k) was designed for the self-employed and the small business owner. Already known for its high contribution limits, the Solo 401k now has an increased contribution limit in 2013.
Owners of the Solo 401k plan can now contribute a maximum of $56,500 to their retirement plan per year if they are over the age of 50. The maximum contribution limit is $51,000 per year if they are under 50.
Annual contributions to the Solo 401k can be made as both the employee and the employer in the case of the self-employed and small business owner. The sum of these two contributions- the employee salary deferral contribution and the employer profit sharing contribution, make up the maximum contribution limit.
The maximum employee deferral contribution for 2013 is now $17,500 for those under the age of 50. Those who are 50 and older can also contribute an additional $5,500 as a "catch-up" provision, making the maximum employee deferral contribution amount $23,000. An additional 20% or 25% of compensation can be made as the employer profit sharing contribution, depending on the structure of the business.
These result in the annual maximum contribution limit being $56,500 for those 50 and older, or $51,000 for those under 50 in 2013.
The rules of the Solo 401k were originally outlined by the IRS in 1981, along with the other 401k plans. The Solo 401k plan was further clarified in 2001 with the passage of the Economic Growth and Tax Relief Reconciliation Act (EGTRRA) which stipulated how the self-employed or small business owner could use the 401k.
"We've found that the high contribution limit is one of the features that draw many to the Solo 401k," states Sense Financial Services president, Dmitriy Fomichenko. "With all the talk of increasing tax rates and fiscal cliffs, the ability to defer more money is especially attractive. These higher contribution limits for the Solo401k couldn't have come at a better time. For those who qualify, a great option just got better."
Sense Financial Services is California's leading provider of retirement accounts with "Checkbook Control": the Solo 401k and the Checkbook IRA. Over the years, they have assisted hundreds of clients obtain checkbook control over their retirement accounts while providing them with the ability to invest in virtually any investment class, including real estate, private lending, mortgage notes and much more without the need for custodian approval.
To learn more at the retirement plans available to the self-employed and the small business owner, please visit: http://www.sensefinancial.com