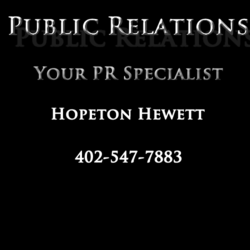 I visited a news site where I release some my businesses news to read some articles. I noticed there were a number of articles that were not getting the most out of what they had paid for by not using all of the SEO resources included in the press release
New York, NY (PRWEB) May 03, 2013
Hopeton Hewett is the owner of a Omaha, NE based online business called Intellectual Expansionist Marketing and Advertising or I.E.M.A. They service small businesses with online marketing solutions promoting themselves through the use of SEO news writing and social media. Hopeton is now looking to be a SEO publicist by promoting his services through his blog. He's recently written an article titled "20 Things Your Publicist is Not Doing."
When asked what inspired the article Mr. Hewett responded "I visited a news site where I release some my business' news to read some articles. I noticed there were a number of articles that were not getting the most out of what they had paid for by not using all of the SEO resources included in the press release, things like not enough photographs, not using all the link text, link strings weren't optimized and a number of other things. So I wrote a page on my website to point this out to point this out so business owners get the most out of their press releases.
"A businesses exposure depends on online press releases and it's essential that when it's written to consider SEO," explains Mr. Hewett. He continues, "One of the things I do is geographically target cities in the United States where people are searching for what I'm writing about. It helps press releases get more exposure and I attract more back links."
He also explains in his article what he'd do as a publicist to get news and press releases more online exposure. Mr. Hewett is an SEO marketing visionary and a digital media expert with plans of promoting his publishing services through out the United States. He has several publicity packages listed on his blog that are available to the public and also plans to acquire several new clients by the end of this week. Mr. Hewett has attached his company's SEO, SMM and online publicity packages PDF documents to this news release to promote his services. For more information on Mr. Hewett's publicizing packages and deals please visit I.E.M.A website or blog called SEO Warfare.
About Intellectual Expansionist Marketing and Advertising:
Owned and operated by professional content strategist Hopeton Hewett Intellectual Expansionist Marketing and Advertising is an online promotional service. Providing SEO, SEM, digital advertising and online marketing to their clients that generate real results.
Contact: Hopeton Hewett
Phone: 1-402-547-7883