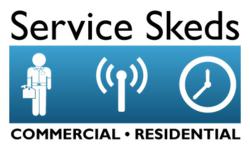 "Service Skeds is constantly making the customers' experience with the application as easy as possible."
North Richland Hills, TX (PRWEB) October 05, 2012
Service Skeds, the technology leader in Field Service Management mobile software, is pleased to announce new features to the software application that will make using the Skeds application simpler and make dispatch work more efficient. One new feature is the ability of the Skeds web application can now process credit card payments. Before, the Service Skeds web application could only specify which card the customer is paying with and credit card payments for a job could only be processed by the mobile application. This new feature makes it easier for field service companies to process credit card payments because now dispatch can use the web application to process credit card payments so the field technicians have more time to work on other jobs. "Many field service firms have approached us saying how easily credit card payments are done from the mobile application and were wondering if the payments could also be processed from the web application" said Skeds president Stephen Chambers. Companies can access this feature through the Edit Payment button located in the invoice popup on the Skeds application.
Another new feature is the addition of the Edit Button to the Unscheduled List. The user now has the option to edit all of the unscheduled appointments from the bottom dwelling Unscheduled List. If users hover over an unscheduled appointment with their mouse, an icon of a wrench will appear in the top left corner of the appointment. Clicking on this icon will then allow users to make changes to their unscheduled appointments such as changing the priority of the job, appointment type, and label color as well as adding notes and editing the lead source. This feature saves the user time when editing unscheduled jobs so the company has more time to schedule both unscheduled and new appointments. "Service Skeds is constantly making the customers' experience with the application as easy as possible," Chambers continued, "so they can spend less time learning the software and spend more time completing their job."
Skeds is a company that provides field service software to help businesses in the service industry to better manage their resources and offers software that is compatible with tablets, smartphones, and computers. Skeds software tracks technicians in the field, reduces data entry with digital documents, and tracks equipment history. More information about the benefits Skeds' field service management software provides can be found at http://www.skeds.com. Contact Skeds at sales (at) skeds (dot) com or call 657 444-SKED (7533).