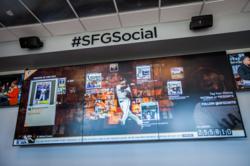 "We can't do business as an organization without having a real presence in social media," said Giants President and CEO Larry Baer.
San Francisco, CA (PRWEB) June 21, 2013
The San Francisco Giants held the anticipated grand opening of the @Cafe, the new @SFGiants Social Media Headquarters at AT&T Park on Monday, June 17, where Giants President and CEO Larry Baer shared the vision and passion behind this innovative experience. Located in the Fan Lot behind the centerfield bleachers, @Cafe is the game time spot for Giants fans and a place where they can follow and participate in worldwide social conversations about all things involving the Giants.
"The goal is to create a social media destination which allows that social media conversation…to be inside the ballpark where our fans, regardless of location, can share content that's captivating and incites conversation about Giants baseball and all things related to Giants baseball…It's the best place to gather folks who are connected to social media right here in the context of the ballpark," said Giants President and CEO Larry Baer. "We can't do business as an organization without having a real presence in social media."
@Cafe was established in response to the fans' and team's desire to connect through social media. AT&T Park led all sports venues in social check-ins and Instagram photos in 2012 and the hashtag #SFGiants was the top sports themed hashtag on Twitter. As the San Francisco Giants' Director of Social Media, Bryan Srabian, explains the team wanted to showcase fan and player conversations occurring around the subject of the Giants. "This ballpark is beautiful. It's perfect. But as we know there are always ways to improve the experience and our fans have shown that they're going to bring those phones and they're going to use them. They're talking about the Giants and we want to take advantage of that and bring that experience so they can see what is going on in and around them."
An expansive video wall featuring posts from socially active Giants players and fans will nurture an already powerful bond that exists between them. It will also enrich the ballpark experience by educating patrons not as familiar with the social media world. In addition to providing a new digitally-enhanced baseball experience for fans, the @Cafe will also feature a Peet's Coffee Bar and mobile charging stations, creating the perfect atmosphere for fans of all ages to interact with one another, and their favorite players—all through the power of social media platforms like Twitter, Instagram and Facebook.
With social media conversations permeating the sports world, Array Interactive is excited to partner with a technology innovator like the San Francisco Giants who are consistently trying to find ways to enhance the fan experience while creating new opportunities for partners and sponsors. "Many sports franchises are realizing the power of social media to grow their brand. However, the Giants are taking it to an entirely different level by providing a platform exclusively for their fans. They realize their fans are unique in the sports world and a key factor in the ongoing success and growth of the franchise," says Kevin Story, Director of Digital Solutions and Sales for Array Interactive. "We're grateful to have been selected to create this one-of-a-kind digital signage, social media experience for the World Champions!"
For more information about Array Interactive and the advanced digital technologies offered, go to http://www.arrayinteractive.com or contact Jeff Dumo at (408) 444-2531.
About Array Interactive:
Array Interactive is a digital signage agency that helps brands across industries access the power and possibilities of digital signage. Leveraging a legacy of strategic, creative and technology expertise, we conceive and deliver relevant and uniquely powerful onscreen experiences, create custom applications and offer products—all designed to meet a brand's specific business and marketing objectives. The result: audience and brand relevant content that brings life to the display.