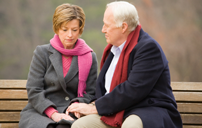 "Each of us has the ability to LIFT someone else's spirits this holiday season," says Ms. DeHoyos. "Let's do it!"
El Paso, TX (PRWEB) December 27, 2012
The holiday season with its focus on family gatherings and joyous celebrations can be extremely difficult for those who are grieving the loss of a loved one. Grief experts report that elderly adults are particularly affected during the holidays because many are living alone and because of the flood of memories accompanying the holiday season. Though the memories may be positive, cherished remembrances of previous holidays, for many there is nothing in the upcoming holiday season which will compare to those past events. Instead, loneliness, health concerns and worries about the future lead to a sense of gloom.
Jessica DeHoyos of SharedSorrows.com recommends that younger family and friends use the LIFT principles:
1. Lights. Since December brings with it the days with the least sunshine, the prevailing darkness can bring a sense of gloom. If possible, take an elderly relative or friend out for an evening of seeing Christmas lights or decorate their living area with cheery lights and decorations.
2. Inclusion. Make arrangements to include your elderly relative or friend in special—or routine—activities during the holidays. This could involve having them help with decorating, baking, wrapping gifts as well as attending church services or special holiday events.
3. Favorite Things. Be sure to inquire about things that made previous holidays special. While you cannot replicate previous experiences, you may be able to duplicate a special detail or two from those special times that will make this holiday season extra special.
4. Togetherness. Nothing else replaces the simplicity of spending time together during the holidays. Don't worry so much about how much you must spend on gifts but focus instead on investing some of your time with this person. Share funny stories from the past and accentuate positive remembrances.
For many, this may be the first holiday season following the loss of a loved one. Ms. DeHoyos recommends grief resources at SharedSorrows.com which include free trained grief guides available by phone every weekday, recommended books and movies, Caring Moment™--a daily email to encourage those who are bereaved as well as links to professional counselors who can provide special care to those experiencing depression and profound grief.
"Each of us has the ability to LIFT someone else's spirits this holiday season," says Ms. DeHoyos. "Let's do it!"