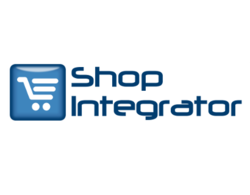 easily incorporate ShopIntegrator's cost-effective ecommerce widgets into their 1&1 MyWebsite
Harpenden, UK (PRWEB) December 31, 2012
1&1 MyWebsite merchants and web designers can turn their website into an online store in minutes with ShopIntegrator's simple shopping cart integration process.
ShopIntegrator's hosted shopping cart software now offers simple, speedy integration with website building platform 1&1 MyWebsite. ShopIntegrator is a McAfee secure, cost-effective ecommerce solution for small to medium businesses. Mobile and tablet friendly, ShopIntegrator provides the perfect online checkout for merchants wishing to sell personalised products, tangible good, digital downloads or services. And, to make the integration process even simpler, ShopIntegrator has available a step-by-step 1&1 MyWebsite shopping cart ecommerce integration tutorial guide.
1&1 MyWebsite users who require a more sophisticated online checkout system than the basic Amazon or PayPal cart, but who do not wish to subscribe to the 1&1 eShop can easily incorporate ShopIntegrator's cost-effective ecommerce widgets into their 1&1 MyWebsite platform. ShopIntegrator is packed full of ecommerce features and invaluable product management tools providing a flexible shopping cart solution for merchants.
When considering an ecommerce solution for their business, 1&1 Website users need to ensure that they choose a shopping cart that meets market demands. They should also bear in mind that average shopping cart abandonment rates are high for ecommerce websites. Shopping cart abandonment rate is the percentage of purchasers who have placed items in the shopping basket but for some reason or another not completed the checkout process. Current statistics show that on average 67 out of every 100 online shopping carts are abandoned before the checkout process is complete (research by The Baymard Institute).
There are a number of reasons as to why shoppers abandon shopping carts but research shows some are directly linked to the shopping cart itself such as, worries over checkout security, too few payment options or a too complex checkout process (Shopping Cart Abandonment Rate Statistics, Invesp). It is therefore imperative that merchants choose an ecommerce solution that identifies and addresses just such customer concerns. ShopIntegrator prides itself on providing an ecommerce solution that has both the merchant and end purchaser in mind. ShopIntegrator is PCI compliant and McAfee secure putting any security fears customers may have at rest. Its checkout process is clear and straightforward for both seller and purchaser. And, ShopIntegrator connects to a number of leading payment processors and offers offline payment options.
1&1 MyWebsite is an excellent DIY site builder offering some great business apps. However, some 1&1 MyWebsite merchants may find the 1&1 eShop too costly but feel the basic online PayPal and Amazon apps on offer lack the ecommerce features needed for their business. ShopIntegrator provides a cost-effective, feature-rich alternative. ShopIntegrator's hosted, shopping cart offers invaluable ecommerce features such as designer settings for creative checkout customisation, multiple currency convertors, real-time product and stock control, European VAT handling for VAT registered merchants, shipping cost creators, discount codes, special offers and shipping-related status update emails.
1&1 MyWebsite users integrating with ShopIntegrator's ecommerce software can also benefit from being able to choose from a range of leading payment processors including CardSave, eWAY, PayPal and Sage Pay. In addition ShopIntegrator also offers offline payment options such as Pay by Bank Transfer or Pay Offline. Pay Offline enables the merchant to choose specific payment instructions such as pay by cheque, pay by bank transfer, pay on collection or pay on delivery. Crucially, the shopper stays on the merchant's 1&1 MyWebsite during most of the shopping cart checkout process and only at the final payment step, where credit card details are securely entered, is the shopper transferred to the secure payment processor's hosted payment page.
ShopIntegrator is a first-rate shopping cart solution for great DIY platforms such as 1&1 MyWebsite. Ecommerce integration couldn't be easier with a step-by-step integration guide written specifically for 1&1 MyWebsite builders. Providing far more ecommerce features than a basic cart yet not prohibitive to smaller merchants, ShopIntegrator's hosted ecommerce solution is packed full of invaluable features that allow business to customize their cart to reflect their own business requirements.
To find out more about ShopIntegrator's easy integration process and it's free 30 day trial visit ShopIntegrator.
Established in 2004, ShopIntegrator provides SMEs with secure, easy-to-use hosted shopping cart software. ShopIntegrator's competitive pricing and straightforward installation process allows merchants to turn their website into an online store within a matter of minutes. McAfee Secure and PCI compliant, ShopIntegrator's shopping cart is compatible with most websites so there is no need to change web hosting companies.
ShopIntegrator is a powerful ecommerce and m-commerce checkout. There is no software to install and its uncomplicated, no cost set-up requires little technical knowledge and can be added into HTML website templates or DIY site builders such as Weebly, Moonfruit, Yola, Vistaprint, and 1&1 MyWebsite. ShopIntegrator also has dedicated plug-ins to simplify adding ecommerce into popular Content Management Systems (CMS) such as WordPress, Drupal and DotNetNuke (DNN).