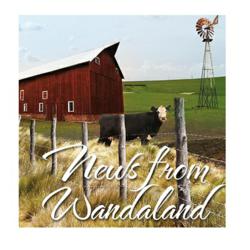 Relationships are what you make them, but none the less, they are never easy. Each time you encounter a difficult situation, you have two basic choices, you can choose to deal with it or let it deal with you
Mabank, TX (PRWEB) February 13, 2013
Valentine's Day is a celebration of relationships, and not just the romantic ones. In News From Wandaland, a collection of short stories written by Author Kodell Parker, he includes "On Relationships," detailing the different types of relationships faced in life and how these encounters mold a person into the person they become later in age.
The story begins with the detailed imagery of geese flying overhead in V formation, alluding to the monogamous behavior, and reminder that most geese couples stay together all of their lives regardless of hardships. This provides a segway into the author's own reflection on his relationships with his wife, cattle, and nearby neighbors. Ultimately concluding that good relationships need cultivation to grow and become meaningful.
Parker remarks "Relationships are what you make them, but none the less, they are never easy. Each time you encounter a difficult situation, you have two basic choices, you can choose to deal with it or let it deal with you"
The short stories, folklore and entertaining adventures contained within News from Wandaland are reflections on Parker's earlier years and rural life in East Texas, alongside his opinions on modern topics. "On Relationships" is just one of many stories told in the book.
The intention of the book is for others to enjoy the collection of short stories and witty opinions, and it is with much gratitude for readers to allow Kodell Parker the opportunity to share this through News from Wandaland. For more information on where to purchase the book, visit http://www.newsfromwandaland.com.
About the Author:
Born at the start of the Great Depression in Nacogdoches County Texas, Kodell Parker graduated from Crushing High School in 1949, and attended the University of Houston for a short time before enlisting in the Navy during the Korean War. Parker later studied electronics at Chenier College, Beaumont, TX and holds FCC licenses. Parkers versatile work experience includes oil exploration, ground radio technician for a major airline, cost planning consultant and author. Parker supports Christian Child Fund International, Angel Paws and various local charities.