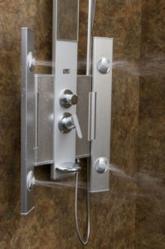 A shower panel will create a spa style shower experience on a budget and without a full scale remodel.
(PRWEB) July 16, 2012
HomeThangs.com – the Home Improvement Super Store has made their goal to deliver the right product to the consumer, with that in mind, shopping and home design tips, as well as special product selections are being introduced.
Hydrotherapy shower panels are fast becoming both prevalent and affordable. These are slim, tall metal panels with built in shower heads and at least two or three (or as many as six) body sprays at about chest level – all the stuff one would build into a full sized custom shower.
HomeThangs.com has introduced several lines of hydrotherapy shower panels for the consumers to choose from, as well as a tip sheet on what advantages this type of shower suggests.
1. Custom Shower Experience without the Custom Shower Cost
While equipment to build a custom spa style shower is available, it usually costs more. For a traditional custom shower each part has to be purchased individually – a regular showerhead, a rainfall showerhead, a hand held shower head, and each set of sprayers, plus individual controls for each one. With hydrotherapy shower panels, such as the Shower Massage Panel VG08006 from Vigo Industries, all of the parts are built into a single unit.
2. No Need for A Big Remodel Budget
Most built-in custom showers require extensive plumbing renovation in order to relocate water feeds to 3 of the 4 interior walls of the shower. That means ripping out not only all of the tile work, but also a significant portion of the walls on top of the cost of extending the plumbing (and often a water heater as well). Hydrotherapy shower panels can typically be installed into the same plumbing as the existing shower head and diverter setup. That means that when it comes to hydrotherapy shower panels, such as the Luana 1014 from Pulse, no big alteration is necessary, in some cases existing tile work does not need to be removed either, which will radically reduce the final cost of the project.
3. Ease of Installation
A custom shower is going to require a contractor 100% of the time. It is hardly possible to get away without having help from a pro to have that much plumbing redone. But installing hydrotherapy shower panels is the glorified equivalent of replacing a showerhead. Many of them, such as the Makena 1015 shower panel by Pulse, attach to the exact same pipe as the existing shower head, and in exactly the same way – they just divert the flow of water to a greater number of shower heads. That makes this the perfect weekend project for a DIYer – no expensive contractor needed.
4. Flexibility In The Future
A shower panel is not nearly the kind of commitment one would need to make for a traditional custom shower in terms of cost or permanence. If anything has to be changed in the future, a shower panel, such as the Kihei 1013 by Pulse, gives a lot more freedom to do so. While tile has to be ripped out all over again to expand, remove, or alter a custom shower, replacing a shower panel is much easier, one can even take it along when moving, This is especially important for people who might be moving in the near future, or for people in neighborhoods where a big bathroom remodel wouldn't give a good return on the value of their homes.
5. Shower Panels are Customizable
While it's easier to customize a traditional custom shower, there are enough hydrotherapy shower panels available on the market today to meet any requirements. Many of them, such as the Shower Massage Panel With Digital Thermometer VG08004 by Vigo, have the sophisticated volume and thermostatic controls and anti scald valves one would expect to find in a higher-volume built-in system.
6. All-In-One-Ease
Some hydrotherapy shower panels, such as the Kailua 1007 by Pulse, come with built in shampoo holders and soap dishes. It's a little thing, but it is a nice convenience to have.
7. Variety of Styles
Hydrotherapy shower panels have different styles to offer. While many come in a chrome finish, quite a few have a little more spunk to them. The Maui 1002 shower panel by Pulse, for example, has a wavy curve to it and a black glossy finish, which gives it some personality. For an antique style bathroom, something like the Pulse Mojave in copper will add to the look. Because the units are so prominent in a shower, they're designed to look good, so it's easy to find unique finishes, shapes, and sometimes even ones that light up to add a little personal flair.
8. Water Efficiency
Hydrotherapy shower panel consumes less water than most of the big custom shower systems. Typical showerheads use about 2.5 gallons per minute, while built in shower systems use at least (yes, at least!) 16 gallons per minute, and often twice that or more. How much an individual hydrotherapy shower panel will use depends on the make, but because they're only fed by a single 1/2 inch pipe rather than one per showerhead, the use is much lower, even though the panels are designed to be able to maintain maximum pressure even with all the valves turned on at once. Example: Kona shower panel by Pulse with two shower heads and six body sprays.
The "problem" of shower panels is inherent in the design – because all the showerheads are located in a single vertical line, one doesn't get quite the same all-encompassing, 360 degree water-fest with a typical shower panel. The Hana 1012 shower panel by Pulse addresses the problem somewhat in that the spray panels expand out to the side for a little more angle on water, but even with that the effect isn't quite the same.
A shower panel will create a spa style shower experience on a budget and without a full scale remodel.
HomeThangs.com is not only a home improvement superstore, it also provides expert design tips and a comprehensive shopping guide, taking the ideas from professional interior designers, and offering tips to the consumers on how to pick the products to best suit their needs.