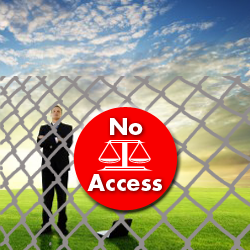 The issue of lopsided justice looms large.
Miami, FL (PRWEB) October 09, 2012
Shpoonkle is successfully providing a solution for unequal access to legal services in this country. Recent reports indicate the legal services system in many states currently tip the scales of justice, so that those who can afford legal representation in civil matters get qualified legal services, and those who cannot afford it are left with few options. In a NY Times article 'Judge Details a Rule Requiring Pro Bono Work by Aspiring Lawyers' wrote: "The financial crisis and a slow economy have increased the demand for civil legal services. A task force convened by the judge in 2010 to evaluate the need in the state found that only 20 percent of the legal needs of New York residents were being met. Among those who rarely have the help of a lawyer are people involved in eviction, child support and consumer credit cases." Other states across the country have cited similar findings. Shpoonkle is successfully changing this situation for many legal consumers.
One documented issue that affects our entire nation is unequal access to legal services. These recent statistics indicate that almost a million citizens are confronted with some sort of civil legal issue and cannot afford access to qualified legal services. Without the access to legal assistance many of these people may lose their homes, rights in child custody, or other rights for important aspects of their lives. Shpoonkle.com is successfully facilitating change to offer options and increased accessibility on a broad and national scale.
Those who cannot afford conventional legal services can try and get legal assistance through legal aid, but the burdened system does not have the resources to assist the volume of those who require help. If someone requires a criminal attorney and cannot afford one, they will be provided with a public defender. Yet, in civil matters there is no mandated assistance.
Additionally, legal aid is available based on varying factors, where a person lives, income level if it falls at or below the poverty level, and available funding. A report called "Access Across America" by the Civil Justice Infrastructure Mapping Project found: "States differ substantially in the resources available to support civil legal assistance, in the kinds of services that are available, and in the groups served by existing programs. Little coordination exists for civil legal assistance, and existing mechanisms of coordination often have powers only of exhortation and consultation. Thus, in most states, the public's civil legal needs are not routinely assessed and no entity can ensure that services in specific areas match the needs of the eligible populations in those areas." Shpoonkle's online model enables everyone in any state, who needs an attorney to gain equal access to qualified attorneys and negotiate pricing. It provides the legal consumers in need with choices.
Gerald Ellis wrote in The Legal Finance Journal an article the 'Income Inequality and Unequal Access to Justice' "But this is America, so when times are hard like they are now, when the economy is sputtering along, and when millions of people are forced to deal with the legal system to work out everything from housing to credit card debts, the issue of lopsided justice looms large. After all, stated otherwise the adage could just as easily read: unequal access to justice is hardly justice at all." The article used New York as an example, stating that 99% of those who were being evicted fought without an attorney, and 70% of those facing foreclosure also did so without an attorney. Shpoonkle finds these statistics are staggering and alarming, as they represent a larger problem. The problem does not just exist in the fees charged but that so many "pro se' litigants are not fully able to represent their matters to the best outcomes without attorneys. Shpoonkle allows the same pro se litigants an opportunity to try and get legal representation at an affordable price.
Shpoonkle is leveling the playing field so that income and access are no longer barriers to protecting the rights of legal consumers. Whether it's someone who needs help with a foreclosure, divorce, an accident, or starting a new business, Shpoonkle is equalizing pricing for legal services.
About Shpoonkle
Shpoonkle promotes advocacy to their members with free services. Shpoonkle is an innovative free web site that allows clients to confidentially post a legal case on line where attorneys bid for that case. The client has the option to pick any of the bidders and can communicate privately with the attorneys. Shpoonkle and Shpoonkle Canada are either registered trademarks or trademarks of Shpoonkle, LLC. in the United States and/or other countries.
For more information, contact: info(at)shpoonkle(dot)com or visit: http://www.shpoonkle.com