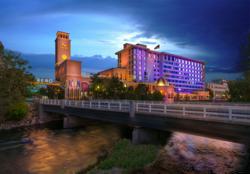 RENO, Nev. (PRWEB) April 02, 2013
The Siena Hotel Spa Casino in Reno, NV announced today that it has been nationally recognized by TravelandLeisure.com. The Siena is uniquely located directly off the banks of the Truckee River and adjacent to the well-known Riverwalk District that recently made the Travel and Leisure's list of "America's Coolest River Walks". The Reno Riverwalk District has been acknowledged for the half mile walk along both banks of the Truckee River that is home to family fun, city events, and eclectic places to dine and shop.
As Reno's Only Riverside Boutique Hotel Spa Casino, the Siena is the place of choice for those looking to enjoy rooms directly overlooking the Truckee River and the Riverwalk District. Not only are luxurious rooms available with beautiful river views, but guests are able to enjoy the sounds of the majestic river accompanied with a delectable meal while dining at one of the Siena's multiple restaurant's.
The Siena Hotel Spa Casino offers stellar casino incentives and giveaways. The Siena's Second Anniversary Weekend Celebration will be April 26th-28th and their Grand Finale Drawing, where one lucky guest will have the chance to roll the dice for up to $1,000,000.00 in Solid Gold Bullion, will be Sunday the 28th.
The upscale Siena Hotel Spa Casino continues to help preserve the Truckee River located feet away from their doors. While inside they offer a world class accommodations, a full service spa, a modern intimate casino, and feature some of the best restaurants in Nevada.
"We are proud to be recognized by Travel and Leisure for our great property and our fantastic location. Being here next to the river is very special to us, and our guests comment often on how relaxing and beautiful the environment is both in and around the Siena." Stated Scott Short a spokesperson for the Siena.
Contact: Scott Short Email: SShort(at)Sienareno(dot)com
The new Siena Hotel Spa Casino, which reopened in 2011, is Reno's only riverfront 4 STAR hotel casino. This boutique resort features newly remodeled rooms and suites, 3 signature restaurants, a world class spa and upscale casino. For more information on the Siena Hotel Spa Casino either phone 877-743-6233 or visit their website at http://www. SienaReno.com.