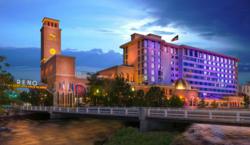 Reno, NV (PRWEB) June 16, 2013
The Siena Hotel Spa Casino announced today that a Lucky Siena Rewards Member won a total of $31,685.00. The weekend stay quickly turned into a weekend of huge cash payouts. A resident of Pittsburg California, had a winning streak on two slot machines throughout the weekend. Luck hit on the Rapa Nui Riches and the Benny Big Game multiple times awarding him a total of twelve jackpots with a cumulative amount of $31,685.00 in winning.
"I'm glad I woke up and decided to play!" said the Siena Rewards Member, "I came for the great rooms and restaurants; now I love the money more than the food!"
Multiple jackpots are not an uncommon occurrence; the latest is one of many guests to strike it big with more than one jackpot. Shortly after the winning blitz, a lucky local player won $15,000.00 with three $5,000.00 jackpots on a video poker machine.
"The Siena's frequent jackpots on a variety of player friendly slots, popular table games, and promotional giveaways have made the Siena the place to play and win big. We are thrilled to see our players reaction when the jackpots hit," stated David Halabuk Director of Casino Operations at Siena.
The Siena Hotel Spa Casino has become the popular choice for travelers, and for our locals here in Reno. The property's first class accommodations, signature restaurants, and exciting casino promotions have created an award-winning destination recognized with a Certificate of Excellence from TripAdvisor.com.
About The Siena: The new Siena Hotel Spa Casino, which reopened in 2011, is Reno's only riverfront 4 STAR hotel casinos. This boutique resort features newly remodeled rooms and suites, 3 signature restaurants, a world class spa and upscale casino. For more information on the Siena Hotel Spa Casino either phone 877-743-6233 or visit their website at http://www.SienaReno.com. For more information contact: Scott Short Email: SShort(at)Sienareno(dot)com