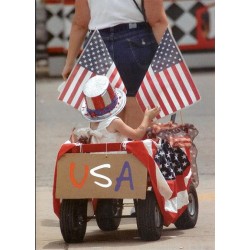 Memorial Day is May 27th - Send a memorial Day Greeting Card in remembrance of those who served.
Raleigh, NC (PRWEB) April 11, 2013
Signature Cards is proud to announce the addition of five new Memorial Day Greeting Cards to their Business Greeting Card line. Memorial Day is great patriotic holiday to send a Business Greeting Card to customers or clients. With a Memorial Day Greeting Card, touch base with clients and remind them of those who served our great country.
With the increased use of computer-generated reports and communications, email and voicemail, adding the personal touch to a business relationships is not only a good idea, but almost imperative. This is why Signature Cards continues to expand its Business Greeting Card line. View the Signature Cards website and their Business Greeting Cards at: http://www.signaturecards.net.
Signature Cards has recently added two new envelopes to their envelope line. Signature Cards now offers Bright White Gold Foil and Bright White Silver Foil, these envelopes are lined with Gold and Silver Foil respectively. These envelopes can be matched with any Business Greeting Card.
Along with Memorial Day, July 4th is another great patriotic holiday to send a greeting card to customers. With a Memorial Day Greeting Card, remember those who have served our country and to share that with customers. With a July 4th Greeting Card, send your best wishes for a Happy Independence Day.
Looking for a Business Greeting Card as a Realtor, Mortgage Broker, Financial Planner, Insurance Agent or one of many other professionals? Signature Cards has just the right selection. With Free customization and personalization, transform any of the Business Greeting Cards to fit any business need. Signature Cards also offers a wide range of colored envelopes to match each Business Greeting Card.
At Signature Cards, the quality of the card stock is as good as any in the Business Greeting Card industry. Each design is printed in four-color process on a carefully selected gloss cover stock. The card stock used is 10 point cover stock and is printed with an Aqueous coating to give the card a nice shine. The inside verses are crisp and finely detailed, just as any business professional would expect. The end result is far superior to what can be shown online. Feel free to request a sample today.
About Signature Greetings, LLC:
Signature Greetings, LLC was founded by Paul Reiss in January 2009 and is located in Raleigh, NC. Signature Greetings provides a way for individuals to start their own greeting card mailing business. Since 2009, Signature Greetings has been offering their Business Greeting Cards exclusively to their distributors in the U.S. Starting in January 2011, Signature Greetings began offering its Signature Cards Business Greeting Card line to Professionals and Small Business Owners via the Signaturecards.net website.