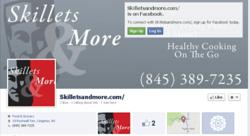 Join the conversation!
Kingston, NY (PRWEB) January 01, 2013
After learning that one's Facebook page should be like a social gathering from its customers, the management at Skillets & More has redesigned its Facebook page. According to the CEO of the company, Jerry McGahan, the project did more than provide us with a nice page layout. SkilletsAndMore.com is well known for it selection of Deep Fryer and Grilling products. They also carry a wide selection of skillet frying pans.
For months, according to management, customers have been pressuring top company executives to set up a face book page. The company then did so but it was just a blank page. Then the pressure grew. Company officials therefore created product sales pages thinking that was what their customer wanted. After a flood of negative complaints they came to the realization that was not what their customers wanted.
Because of customer feedback, the company received, the company's management has made a January 1st new year resolution to change its Facebook page focus. The Skillet & More face-book page has now changed its focus from one of selling to a place where people want to meet and exchange ideas.
A Facebook page when one stops and thinks about it is really a social gathering. It has a social theme but no direct message which make it an interesting place to visit. And often it is in the social gatherings that it is where decisions are made.
Restaurants with nicely decorated tables might seem like a good place for fun and memorable conversations. The conversation invariably turns to such topics as the weather, one's health and the type of work one does of a living. In reality they are not good places for stimulating conversations. The reason is they don't provide any focal point.
A traditional web page provides a focal point but no way for customers to exchange ideas with each other and the site owner. So it too is not a place for conversation.
When cooking is done with a group of friends and relatives, it helps create conversation which explains why some parties are interesting, fun, and lively and others are lifeless and dull. The answer is quite simple. Portable cooking units such as electric grills and deep frying are great at providing that party atmosphere focus.
Now imagine being at the same place but this time there are small deep fryers and grills cooking up mouth watering foods. Think about the potentially that it creates for interesting and engaging conversations. The conversation can range from where is the best place to purchase ingredients, growing one's own spices, how to modify the cooking grill, starting a new business together to past memories of how the chef's dog trotted away with the steak.
Food is a universal language that everyone understands and can appreciate. It therefore makes sense to bring that natural conversation starter into the party instead of keeping it separate. Facebook pages and other social media are like the universal language. They provide an opportunity for customers to meet and talk with other customers, share experiences and receive advice.
The Skillets & More Facebook page will now provide cooking recipes and try to facilitate conversation instead of just posting product information. Check out the new Skillets & More Facebook page.