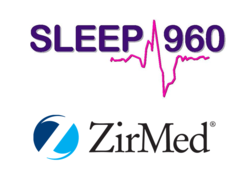 We are looking forward to working with Sleep960 and the entire group of platform partners they have assembled over the last year
Fort Myers, FL (PRWEB) February 28, 2013
Signature Sleep Services (dba Sleep960) announced today that it has signed a Business Partner Agreement with ZirMed® to market and integrate their suite of revenue cycle management software solutions with a growing platform of sleep medicine tools developed to improve efficiency of the patient's complete care cycle from initial screening to therapy adherence. There are many elements to the sleep patient's complete care cycle that utilize specialized software applications and medical devices, however many of these components do not communicate with each other and therefore do not share data between products. ZirMed was selected because of their medical billing and patient payment solutions that simplify the healthcare reimbursement process.
Over the last year Sleep960 has been constructing a platform of complementary products that work together to provide a much more effective method to deal with all the elements a sleep testing and treatment organization faces on a day to day basis. This process begins with SleepScreener, a web-based application that effectively screens and electronically refers sleep disorder patients to facilities licensed to access the application. It also links participating health care providers together and allows these practices to cross refer among one another.
Once the patient is in the network then various parameters of information, such as demographics and insurance fields, can be shared among the platform partners. Moving through the workflow cycle the patient can now be directed toward appropriate diagnostic testing and then on to effective therapy options including compliance management and clinical outcomes monitoring. There are numerous steps in this process so the mission is to eliminate redundant data entry and create applications that truly reduce time and increase the efficiency of the patient's complete care cycle.
ZirMed offers a variety of software solutions in revenue cycle management that include Front Office tools designed to streamline the in-office portion, a Patient Payment module that allows easy collection of payments, Claims Management tools that simplify and manage the complex reimbursement process, and a Payer Payment application that revolutionizes the way you manage and process payments from payers. This is further enhanced with an Analytics package providing drill-down reporting and performance-level trigger alerts.
"We were looking for some time to partner with a solid revenue cycle and management company that could offer a complete package of software tools required to manage all the elements of the revenue cycle" said Michael Clark, VP of Sales and Business Development. "Not only did ZirMed satisfy that aspect, but they also provide excellent training and support which was an important factor in our decision process. From several provider testimonials and KLAS rankings, they have established a great reputation especially in the Home Medical Equipment (HME) side of our industry."
"We are looking forward to working with Sleep960 and the entire group of platform partners they have assembled over the last year" stated Jonathan Newton, Director of Corporate Marketing. "We at ZirMed are very happy to work with Sleep960 in improving the sleep medicine care cycle inefficiencies and through our innovative revenue cycle solutions reduce the overall cost and time of reimbursement."
About Signature Sleep Services LLC
Signature Sleep Services (dba Sleep960) is a sleep medicine resource company providing diagnostic & therapy products, consultation & management services and Polysomnography educational courses. Our products focus on improving the complete care workflow cycle from initial screening, testing, treatment and successful outcomes for the sleep disorder patient. A sister company, the Florida International Sleep School, provides a variety of Polysomnography courses with a blended mix of on-line, on-demand and traditional classroom sessions.
About ZirMed
ZirMed® is a nationally recognized leader in delivering revenue cycle management solutions, serving more than 150,000 healthcare providers. ZirMed leverages the power of technology to cure administrative burdens and increase cash flow, enabling providers to not just survive but thrive. ZirMed solutions include eligibility verification, credit/debit card processing, check processing, claims management, coding compliancy and reimbursement management, electronic remittance advice, patient statements, patient e-commerce solutions, and lockbox services. ZirMed is rated amongst the top in KLAS, and has been a multi-year recipient of Inc. magazine's 500/5000 fastest growing companies and Healthcare Informatics magazine's Top 100 Companies awards. For more information about ZirMed, visit http://www.ZirMed.com.