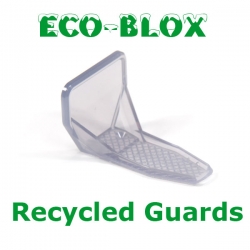 ECOBLOX are a continuing evolution of our product line and help building projects go green even during the winter season.
Mechanicsburg, PA (PRWEB) September 30, 2012
IceBlox Inc., D.B.A. SnoBlox-SnowJax the originator of polycarbonate snow guards patented the first snow guard in 1976 and now reminders consumers of another industry first, ECO-BLOX the first ever recycled snow guard made with post-consumer polycarbonate. This version of the trusted SnowBlox Deuce model is made with recycled water bottles and compact discs.
Howie Scarboro National Sales Manager demonstrates the industry leading Snow Guards, Decorative Snow Guards, Vent Saver, Leaf Blox, and Bar Systems in a video review at the most recent MetalCon International tradeshow at the Georgia World Congress Center, USA.
"There's three secrets to SNOBLOX-SNOJAX success in the snowguard product business, the first is the design of the guards, the second is the materials that we put into the production of the products, and the third is the snow guard layouts" States Scarboro.
In preparation for the coming snow season please watch the Metal Con Video showcasing the innovative snow guard products.
For those seeking a simple solution for selecting and sizing the right snow guard components try the FREE software application at http://www.snowguardspacingtool.com. Simply enter roof panel info, and in a few minutes get emailed a detailed full roof layout, recommended guards for roof panels and a free estimate including materials and pricing to get the job done.
The SNOBLOX-SNOJAX growing product line now includes the following products:
Clear Guards
SnowBreaker
Snow Guard Colors
Metal Snow Guards
Slate Roof Snow Guards
Adhesives and Sealants
RoofClamp
Vent Pipe Protection
Gutter Leaf Protection
Accessories
SnoBar
Snow Guards are designed and made in the USA using the highest quality 100% virgin polycarbonate, only one set of injection molds in the world can make SnoBlox-SnowJax products, which are never imported or white labeled for other brands.
About Us:
SnoBlox-SnoJax first product was developed and patented by Jack McMullen in 1976. SnoBlox-SnoJax is based in Pennsylvania as is the recognized leader in innovative snow guard solutions designed to protect people and businesses from dangerous snow slides. Our Snow Guard products are to this day, still designed, engineered and manufactured in the USA.
Toll Free: 800-766-5291
Phone: 717-697-1900
Fax: 717-697-2452
Mailing:1405 Brandton Road
Mechanicsburg, PA 17055
http://snoblox-snojax.com/
Press Release Internet Presence Management services provided by Image Forward, Michael Huth, CEO.
###