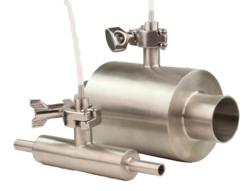 The SNR Supports Quality System Expectations for Periodic Sensor Calibration.
Minnetonka, MN (PRWEB) April 29, 2013
Burns Engineering has added a new sensor to their Series "S" sanitary temperature offering. The SNR is an inline non-intrusive temperature sensor which incorporates a REMOVABLE SENSOR design for easy calibration or replacement. The SNR is an effective alternative to immersion sensors for small diameter lines or viscous materials.
This self contained temperature measurement device accommodates process flow tubing sizes from 1/2" up to 4" and is fully insulated to minimize external influence and ensure measurements that accurately represent the process temperature. Designed for cleanability and drainability, the SNR meets the requirements of the 3-A Sanitary Standard and the ASME-BPE standard. Available as an RTD or Thermocouple sensor with weld-end or hygienic ferrule process connections. The operating temperature range is -50°C to 200°C.
Visit SNR to view available designs and complete specifications. Burns also offers customization of these designs to meet specific temperature measurement needs.
About Burns Engineering:
Since 1960, Burns Engineering has been an industry leader in the design and manufacture of temperature measurement products for the Process, OEM and Metrology industries. Products include RTDs, Secondary SPRTs, Thermocouples, Thermowells, Transmitters and NVLAP® Accredited Calibrations (Lab Code 200706-0). Learn more about Burns Engineering at http://www.burnsengineering.com or contact directly at 800-328-3871.