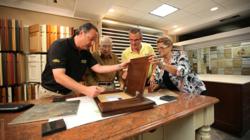 Use a home improvement company with an established business in your area. Ask how long your contractor has been in business.
Somerville, NJ (PRWEB) February 25, 2013
Putting your home, money and trust into the hands of a contractor when embarking on a home remodeling project can be overwhelming. To protect yourself and your investment, you should follow a few simple steps to ensure your project runs as smoothly as possible. Somerville Aluminum, one of the largest and most reliable home remodeling contractors in New Jersey, recommends following these simple steps:

Have a plan going into your remodeling project. Do your homework. Know what you want, set a realistic budget but prepare to make changes and adjustments along the way.
Use a home improvement company with an established business in your area. Ask how long your contractor has been in business.
Do research on your contractor. Get references, talk to previous clients and look at previous work or portfolio. Interview more than one contractor before making a selection.
Does the contractor have a clean, neat showroom? A showroom is a way for contractors and designers to showcase their work, products and designs. A showroom that is messy or not completed professionally may be a warning sign to look elsewhere.
Make sure your contractor is licensed, certified and insured. Check with the Better Business Bureau or Office of Consumer Affairs to ensure there are no complaints on record for your contractor. Ask if your contractor is a member of NARI® National Association of the Remodeling Industry.
Have a contract with a clear start date and completion date, with a detailed description of the work that is to be done along with a detailed description of the materials to be used.
Make sure your contractor uses high quality products and materials and employs certified professional installers.
Make sure you are assigned a Project Manager who will oversee the day-to-day work being done at your home and who will be available to you at all times from start to finish.
Make "progress payments" at agreed upon intervals, usually after certain stages of work have been completed.
Ensure any changes to the project, either by your request or unforeseen expenses, are put in writing with cost being approved by you before expense is incurred. This is commonly referred to as a "change order".
What is the contractor's warranty? A professional contractor provides a warranty on labor and material.
Do not make your final payment until the job has been finished, with final inspections approved.
Finally, go with your gut. Make sure you feel comfortable with the contractor you select.
In honor of Somerville Aluminum's move to Branchburg in the spring of 2013, the home remodeling contractor is offering 10% off any home remodeling project. This offer is valid on purchases made before March 31, 2013. Cannot be combined with any other offer or discount. No adjustment on prior sales.
Go with the Pro: Somerville Aluminum is the area's largest full service home remodeling company and has built a reputation for reliability, expertise and trust with their core family values lacing through three generations of service to Central Jersey homeowners. With the founding and guiding principle being about building a family and community oriented business, Brothers-in-law Gary Shiman and David Gropper approach each day and each job with their customers as their number one priority and strive to assure them that their home is in good hands.
To learn more about the Somerville Aluminum Home Remodeling and Design Team, please visit http://www.somervillealuminum.com or call 908-725-8401.
Contact:
Jodi Mayo Alessandri
MG Media, LLC
856 US Hwy 206, Suite B11
Hillsborough, NJ 08844
908-874-9200 x111
Sources: New York Times, HGTV, NARI®