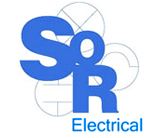 (PRWEB) May 07, 2013
Electrical Services Company and installer of Harrods of London's chandeliers revamp their online presence.
Launching a new website is an excellent way of consolidating a company's experience and sharing their achievements with their customers. SOR Electrical are doing just that with the launch of their new interactive website. MD Stephen O'Reilly states, "In the last sixteen years we have come a long way. We are now proud to have internationally acclaimed customers such as The Lighting Store and Harrods as part of our portfolio. Both of these customers also recommend us as their preferred fitters on all in-store lighting purchases. Our website communicates these achievements as well as guides new customers through our capabilities."
Miss Sarah Tanner of Harrods commented on the website, "I was happy to take a look at SOR's website and give my opinion. I found it clear and easy to use. It drives the message home that SOR is dedicated to responsible practice and a high standard of workmanship. Having recommended SOR as our Crystal chandelier fitters for four years now, I can heartily back up this claim."
The website presents all of SOR Electrical's services, which include lighting design, electrical installations, maintenance and testing. It also aims to inform clients about electrical issues, such as how to economise on bills, safety in the home and how to be energy efficient. "Sustainable energy usage is a key issue of our time. There are simple ways in which we can contribute towards making our energy consumption environmentally friendly and we hope our website makes them clear," says Stephen O'Reilly.
An updated Blog will keep abreast of relevant green energy issues as well as bring some personality to the website. It will include entries by the team and as well as covering more serious subjects, it will include some light-hearted and humorous entries. "The Blog is a way for us to get to know our clients and for them to get to know us," states O'Reilly, "Trust is a big part of our company ethos and the best way of building trust is through communicating. That's what our new website is all about."
To find out more about SOR Electrical, visit their website: http://www.sorelectrical.co.uk