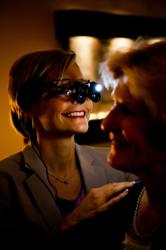 "Our goal is to stay abreast of all technology options available for tinnitus treatment so we that we can most affectively help Coloradoans achieve a better quality of life through better hearing."
Highlands Ranch, Colo. (PRWEB) May 16, 2013
In sync with National Tinnitus Awareness Week, May 19 – 25, the Sound Relief Hearing Center today announced the expansion of its tinnitus treatment offerings. With the addition of the Neuromonics Sanctuary and Phonak Audéo Q devices, Colorado's premier provider of hearing and tinnitus services now offers patients eight treatment options for tinnitus.
Tinnitus impacts 50 million Americans, with more than one million people suffering from this condition in or around the Denver Metro area. Dr. Julie Prutsman, Au.D., FAAA and founder of Sound Relief Hearing Center, describes tinnitus as a ringing, roaring, clicking or hissing sound in the ears. "For many people with tinnitus, the condition is more than a little 'ringing in the ears,'" Dr. Julie explained. "Tinnitus is a constant noise people hear 24 hours a day that often interferes with their daily activities. People with severe cases of tinnitus may find it difficult to hear, work, or even sleep."
Tinnitus is often caused by exposure to loud noise – on the job, on the battlefield, while motorcycling, snowmobiling, hunting, using or being near fireworks, or listening to loud music. In other words, while living a fairly normal, modern life. It is the number-one service-connected disability for veterans from all periods of service, accounting for more than 840,000 veterans. Iraq and Afghanistan veterans are impacted at historic rates and cost the government $1.28 billion annually in disability compensation just to veterans with tinnitus. Economic loss to society costs an individual up to $30,000 annually and as a whole costs the country $26,000,000 annually.
"Unfortunately tinnitus is still poorly understood by healthcare professionals," said Dr. Julie. "Many medical professionals think nothing can be done about it and tell patients to go home and live with it. This is a very frustrating diagnosis for the millions of people affected by tinnitus."
Unlike many audiologists, Dr. Julie's tinnitus treatment options are not limited to hearing aids. The audiology practice offers the most comprehensive package of tinnitus solutions in Colorado, starting with Tinnitus Retraining Therapy (TRT), which involves testing, counseling, and follow-up. With the two new treatment options, the practice now offers eight tinnitus solutions in conjunction with TRT:

Neuromonics Sanctuary – new treatment option
Phonak Audéo Q – new treatment option
Inhibitor Ultrasonic
Neuromonics Oasis
SoundCure Serenade
Starkey Xino
Widex Dream featuring Personal Zen
Widex Zen2Go
"We are committed to raising awareness and understanding of tinnitus," stated Dr. Julie. "Our goal is to stay abreast of all technology options available for tinnitus treatment so that we can most effectively help Coloradoans achieve a better quality of life through better hearing."
To learn more about tinnitus, visit http://www.youreardoc.com/tinnitus-denver.
About Sound Relief Hearing Center
Sound Relief Hearing Center is a family-owned-and-operated audiology practice with a rich family history in the hearing health industry. Representing the family's second and third generation respectively, this mother/daughter team of hearing professionals has a combined 45 years of experience in providing the best possible hearing care to Colorado. With offices in Centennial and Highlands Ranch, Sound Relief Hearing Center offers a full range of diagnostic and preventative hearing health services, including tinnitus testing and treatment, hearing screening, evaluations,hearing aid sales, and rehabilitative and preventative counseling. For more information, visit YourEarDoc.com. Follow us on Twitter @soundreliefhear and Facebook at http://www.facebook.com/soundreliefhearingcenter.