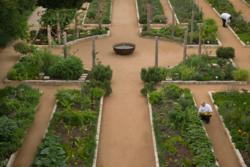 Austin, Texas (PRWEB) June 17, 2013
Trisha Shirey, the Director of Flora and Fauna at Lake Austin Spa Resort for the past 29 years, often turns to the resort's award-winning organic gardens for inspiration as she spends much of her time caring for the vast amounts of herbs, vegetables, fruit trees and flowers that grow along the shores of the 19-acre lakeside retreat in the Texas Hill Country. Taking her cue from nature, Shirey has perfected five healthy spa popsicle recipes to include her favorite summertime ingredients of fresh herbs, yogurt, fruit, coffee and avocados. They are simple to make and free of high fructose corn syrup, artificial flavors and dyes that are typically found in store bought varieties.
Shirey recommends sourcing popsicle molds from the cooking supply store or grocery store that are free of BPA or using simple paper cups covered with foil and then adding a spoon to act as the popsicle holder.
Below are some of her original creations for Summer Spa Pops:
Watermelon Berry Pops
2 cups seeded watermelon, cut into chunks
½ cup fresh or frozen strawberries
1 tablespoon lemon juice
2 tablespoons organic sugar, honey or agave nectar (or to taste)
Peppermint or cinnamon basil sprigs
Place all ingredients in the blender and blend until smooth. Pour into molds and freeze overnight.
Coffee Pops
Get an afternoon energy boost with a coffee popsicle. Substitute chai or black tea for the coffee if desired. Caramel coffee and almond milk are my favorite combination.
1 cup strong coffee (flavored coffee if you like)
2 tablespoons organic sugar, honey or agave nectar
1 cup 2 percent or whole milk or light cream or almond milk
Mix sweetener with coffee after brewing. Allow to cool. Add milk and pour into molds. Freeze overnight.
Avocado Mint Creamsicles
1 large ripe avocado
½ cup light cream
¼ cup milk
1 to 2 sprigs of fresh mint
2 tablespoons organic sugar, agave nectar or honey (or to taste)
Dash of salt
Cut the avocado into chunks and scoop from the peel into a blender. Add remaining ingredients and process on low speed until smooth. Pour into molds and freeze for at least 6 hours.
Pina Colada Popsicles
1 cup canned crushed pineapple, packed in juice
1 cup canned low fat coconut milk
2 tablespoons agave nectar
2 tablespoons unsweetened shredded coconut
Fresh mint or chopped pineapple sage flowers
Mix all ingredients and pour into molds. Freeze several hours or overnight.
Add one mashed, ripe banana to the mix to add more tropical flavor.
Yogurt Berry Pops
1 cup of fresh or frozen berries – strawberry, blueberry, blackberry, raspberry, cherry or any combination
1 cup low fat vanilla Greek style yogurt
2 tablespoons honey or agave nectar
Fresh mint
Process berries until smooth in a blender or food processor. Add remaining ingredients and process until well blended. Pour into molds and freeze overnight.
Vary the flavors of yogurt and fruits. Try coconut Greek yogurt with fresh pineapple chunks, strawberry yogurt with fresh bananas.
Tropical Popsicles
1 cup fresh squeezed orange or pineapple juice
Several pieces of fresh lemon verbena and lemon balm
1 large ripe mango, peeled and diced or 2 cups frozen mango chunks
Crush the herbs and stir into the juice and refrigerate overnight. Strain and discard the herbs and add the mango pieces in a blender container. Blend ingredients until smooth and pour into molds. Freeze overnight.
Substitute persimmon pulp, guava or banana for the mango for a different tropical flavor.
Watch Trisha make popsicles on YouTube: http://www.youtube.com/watch?v=ZC21iCOweBQ
Get the recipes: http://lakeaustin.com/share/recipes/desserts/summer-popsicles
Tweet about it: Summer Spa Pops from Lake Austin Spa Resort! #yum #popsicles @Lakeaustinspa
ABOUT LAKE AUSTIN SPA RESORT
Nestled along the shores of scenic Lake Austin in the beautiful Texas Hill Country, Lake Austin Spa Resort offers guests the sanctuary of a world-class spa and the warmth of a best friend's lake house. Lake Austin Spa Resort offers all-inclusive vacation packages, which include accommodations in one of 40 charming lakeside guest rooms, three gourmet meals daily, indoor and outdoor fitness activities and classes, and a selection of spa and body treatments.
The resort has received numerous awards from prestigious national travel and spa magazines since its multi-million dollar renovation and expansion in 2004. Condé Nast Traveler, Travel + Leisure, Allure, the Zagat Survey, Health, Garden Design, SpaFinder Lifestyle, Spa Magazine and American Airlines' Celebrated Living magazine have recently honored Lake Austin Spa Resort as one of the best in the country and in the world. For additional information and reservations, call 800-847-5637, or visit http://www.lakeaustin.com.
CONTACT: Darlene Fiske darlene(at)thefiskegroup(dot)com, (512) 331-7755
###