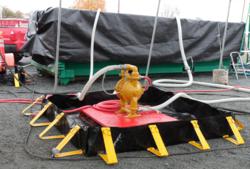 SPCC templates and supplies for a one stop shop
Meridian, Idaho (PRWEB) May 07, 2013
As the date to have SPCC plans fast approaches, many in the farming and agricultural community have come to grips with the state and federal requirements for fuel containment. It seems there will be no further delays in implementation. Self-certifying tier one and two farms will have to comply with the requirement to set up a formal fuel containment plan. The EPA has templates to follow in the hopes of making it easy for farms, ranches and agriculture in general to put together an action plan. AIRE Industrial has put these resources on its website to assist with a one-stop shop solution.
The spill containment manufacturer has many resources and products to assist the agricultural community with its containment and compliance needs. AIRE Industrial stocks hundred of spill berms to assist with secondary containment of fuel tanks, as well as providing fuel and water tanks to house liquids. Tanks can also be used to store chemicals and fertilizers as well as provide a portable water source. Spill kits are also available, as well as storage cabinets for pesticides and small fuel cans. Farms and ranches can find fuel and water storage solutions, as well as chemical containment supplies.
Agriculture can make a SPCC plan on site, print it out and buy the materials need to implement the plan right from the online store. There is a knowledgeable technical sales team available Monday through Friday, as well as after hours on-call specialists to assist with emergencies. Spills can happen at any time, and the team from AIRE Industrial is always there to help. The online store is also available for use 24/7, with many in stock items ready for immediate shipping. All items marked with the green in stock message are available for rapid delivery.
The EPA has set the date of May 10, 2013 for all tier one and above farms to have a SPCC plan in place and displayed at a site that is available at least four hours a day. The plan must include storage sites and secondary containment configurations for fuels.
For more information on SPCC farm fuel containment, and other spill containment solutions, contact Aire Industrial, 2021 E Wilson Ln, Meridian, Id 83642, 1-800-247-3846 or visit http://www.aireindustrial.net where information, photos and supplemental chemical compatibility charts can be found.
About AIRE Industrial:
Located in Meridian, ID, AIRE Industrial has combined its technical knowledge and manufacturing expertise of flexible textiles to provide liquid containment products and spill prevention solutions for government agencies, military, agriculture, environmental containment, and the wild land fire suppression industries.
The founders of AIRE Industrial are outdoor enthusiasts, protectors of the environment, and take pride in using American sourced materials and keeping jobs local. AIRE Industrial offers a complete line of flexible storage tanks and bladders as well as portable secondary containment berms, spill kits and containment products. AIRE Industrial has offices in Idaho, Washington, North Dakota, and partners in Europe, Asia, North Africa, New Zealand, The Middle East and South America.