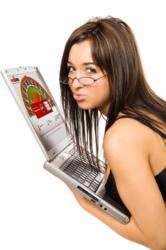 Boston, MA (PRWEB) October 13, 2012
KissorDiss.com is a new live dating site that allows users to instantly chat online with their ideal date. They simply enter their own age and sex and those of the people they want to chat with, and are connected with them live via the use of a webcam. At Kissordiss.com, there is no waiting to connect with a date, and users can see what their dates truly look and act like immediately.
Members at KissorDiss.com enjoy easy access to a constant stream of new, hot singles looking for their next date or connection. The process is much like speed dating from the comfort of home, without having to drive, register and wait while trying to talk over other couples in the same room.
Since the live dating process at KissorDiss.com is anonymous, users can easily choose to "kiss" their match to continue a conversation, or "diss" them to be connected to another. This way, there is no recourse from dissed matches because they don't have a user's personal contact information.
Many online daters complain that the person they thought they were connecting with don't represent their posted photos. At KissorDiss.com, users can eliminate this possibility with the live dating atmosphere. They can immediately determine if there is any chemistry between them, whether they like the way they look and act, and if they have cohesive senses of humor. If not, a simple "diss" will remedy the situation and send them on their way.
KissorDiss.com allows live daters to chat on a sort of roulette wheel that randomly pairs them with people fitting the description of who they'd like to meet. Users may be looking for simple conversation and friendship, a random hookup prospect, or even a long-term relationship possibility. Some may use the live dating as an entertaining way to spend an evening alone, or even an easy way to meet their next love match.