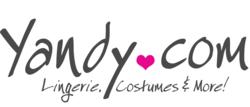 Phoenix, AZ (PRWEB) October 13, 2012
Superhero costumes are not just for comic book fanatics or just reserved for men with the new collection of sexy superhero and Spiderman costumes available at Yandy.com this Halloween.
Not traditionally viewed as a costume option for women, the trend of dressing up in movie costumes dressed as male superhero's, like Spiderman, more and more women are opting to hone in on their spidey sense and don the web wielding comic legends costume for Halloween. With new costumes like the officially licensed Spider Woman costume which features a metallic blue mini dress with a layered skirt, red spider web print front panel, shrug and matching eye mask and the Girl Spider costume featuring a fashion forward, red and blue, spider print romper, gloves and eye mask women have more and more options to choose from every year.
Yandy's collection of sexy superhero costumes do not end there. The costume site also features female versions of other classic male superhero's like a sexy Captain America costume, Deluxe Batgirl costume and the Supergirl Corset costume.
Not only are there endless superhero costumes to choose from this Halloween at Yandy.com, but every shopper also receives free, flat rate shipping on orders over $70 as well as a free panty with every order.
About Yandy.com
E-commerce is on the rise and Yandy.com is one of the largest online retailers of lingerie, sexy Halloween costumes, swimwear and clothing on the web. Founded in 2003, Yandy boasts more than 6,500 products always in stock at easily affordable prices. Yandy ensures that every customer will receive a safe, secure and private online shopping experience and is backed by COMODO online security and Google Checkout. Yandy is dedicated to customer service and only sells what is in stock which allows for quick, same day shipping. Offering the highest quality products at the most affordable prices in the market, Yandy has become a leader in e-commerce. Yandy works closely with all of the manufacturers they distribute for and hand select all of the items on the Web site to ensure customers have the largest and most diverse collection to choose from. In addition, the customer service team at Yandy is unrivaled. With attentive and helpful operators, should a question or problem arise, the customer service team at Yandy is always willing and able to assist. At Yandy, every customer can Be Sexy.