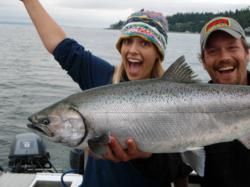 "My clients often also enjoy some of the most delicious crab meat in the world - that of the Dungeness Crab"
Vancouver, BC, Canada (PRWEB) May 14, 2013
It isn't only the tourist industry that is taking advantage of the excellent salmon fishing just off the shores of English Bay in Vancouver, BC. Locals are also enjoying spending the day on the water in increasing numbers.
While many Vancouver residents are used to the beauty of the Pacific Ocean they may not realize it is a flourishing natural habitat to all kinds of sea creatures and many game fish like salmon and halibut. Salmon fishing has been a local pastime for centuries, but in the past few years fishing has been dominated by tourists and out of town visitors.
Only recently have we seen a major change in the fishing industry in Vancouver, and the locals are starting to take back their waters.
It is no surprise with the rising cost as well as the health benefits associated with fresh caught salmon, that fishing for your own dinner has grown in popularity and is becoming a trendy way to get out and enjoy the Vancouver scenery and at the same time catching a healthy meal.
Seasoned Captain of Aquatic Ventures out of Granville Island, BC, Captain Rod Hebert has been fishing the waters off of Vancouver's mainland and Vancouver Island for decades and has noticed a rise in the local awareness and demand for sport fishing in Vancouver. Captain Rod states "Like many tourist dependent businesses, we were hit by the lull in the economy over the past few years, but we are now seeing a dramatic rise in the demand by local residents, along with local businesses looking for creative and unique ways to encourage or reward employees for a job well done, by sending them for a day on the water to relax and enjoy all of Vancouver's splendors."
Although Vancouver is still one of Canada's top destination's for tourists, it is both the coastal beauty and the majestic Rocky Mountains in the background that are the main draws for bringing in the sightseers along with sport fishermen from around the globe. Salmon fishing is popular most times of the year and there is no better way to catch a saltwater salmon that with a few down-riggers, some tasty shrimp bait, a seasoned boat captain along with a little luck.
Captain Rod says, "What people might not understand is that fishing in Vancouver does not only involve the enjoyment of fishing and reeling in a big one, but also includes a beautiful boat ride, scenery of the mainland, mountains and ocean, a fresh sea breeze along with catching a glimpse of the many natural creatures like Sea-lions, Whales, Bald Eagles and much more that Vancouver has to offer. My clients often also enjoy some of the most delicious crab meat in the world; that of the Dungeness Crab, found near the shores of English bay, and easily captured with a crab trap that gets rigged and set out prior to most fishing trips."
So while tourism slowly picks up and the weather improves for the summer, there is no doubt this season on the water seems like it may very well be one of the best in years, and business owners like Captain Rod or Aquatic Ventures, are gearing up for a busy season. Whether tourists are coming in for the catch or local residents are taking advantage of some of the best Salmon fishing around, it is obvious that fishing charter companies like Captain Rod's Anglers Dream will be busy and are happy to take care of whatever business comes their way.