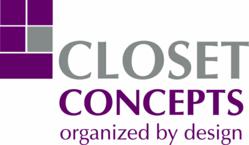 Start your spring cleaning by choosing one closet each weekend to pull apart and put back together. - Luis Mata, owner of Closet Concepts
New City, NY (PRWEB) April 26, 2013
Spring has finally arrived and with that the urge to do some spring cleaning. It's time to 'declutter' and find extra space. At Closet Concepts it is their busiest season as people realize they have either collected too much stuff and need new ways to store it, or they want to simply make the best use of their closets, garage, or laundry room. While many people start to sweat at the thought of cleaning out the messiest areas in their homes, the professionals at Closet Concepts love it. They help homeowners feel more organized and develop functional and attractive spaces within their homes by installing units that take full advantage of the square footage and provide ideal solutions for various storage problems.
Where to Start - From Luis Mata, owner of Closet Concepts
Closets: Closets are a great place to start your spring cleaning. A well-organized closet, even a small one, can be one of the most valuable areas in your home. We can often 'find' up to 30 percent more storage space by filling the walls with well-designed components. Tip: Start your spring cleaning by choosing one closet each weekend to pull apart and put back together. Begin by sorting through clothes and making one pile for giveaway, one for winter (to be stored), one for clothing you wear more often and one for clothing that is seldom used, formal wear, etc. Once you have given away what you don't need, you may find you already have 20% more space. Throwing away shoe boxes and utilizing attractive shoe racks is one way to save space and find the things you need more quickly.
Garages: Our durable shelves, cabinets, drawers, work benches and wall hangers can transform a typical garage into an organized, attractive storage and work room. And most folks appreciate having more room to get in and out of the car. Tip: To start cleaning the garage, put the car outside and begin by making a pile in the middle of the garage of those things that need to be tossed. This might include hazardous oils or paint; be sure to dispose of them properly. You might also find broken items, bikes, toys, etc., that can be justifiably thrown away. Once you have gone through this process, begin by putting things you use more often at eye level height and the things you use less often in the back and up high.
Pantries: Very often pantries have wasted deep cabinet space and high 'out of reach' space. Our creative use of shelves allows homeowners to store, see and retrieve items with ease and ultimately maximize the amount of usable space available. Tip: Once again begin by choosing one closet at a time and going through each item. Homeowners often find items that are out of date and can be thrown away. You might also find open bags of sugar or flour which can also be thrown out or transferred to air tight containers to prevent spoiling and/or bugs. Putting items you use each day on eye level shelves will help you find them quickly when cooking. Putting little used items on lower shelves or higher shelves will help as well. However if you have children be sure that they can access only those things that are safe for their age range.
Laundry Rooms: Laundry areas can become unruly very easily. At Closet Concepts we offer cabinets, shelves, drip dry racks and folding tables with unique functional design so that the laundry room can be more than just functional, it can actually be a space you enjoy working in. Tip: Similar to garages, laundry rooms often become the catchall space for things we really don't know what to do with. Give yourself permission to throw away or give away items that you no longer use. Holding on to them only causes anxiety and clutter. If you want to make doing laundry easier for the kids in the house, give them each their own laundry basket with their name on it and let them bring their dirty clothes to the laundry and take it back up when it's done.
Mud Rooms: We install space-saving cubbies, hooks, drawers and baskets to make it easy to keep your entryway neat and attractive. Tip: Mud rooms can actually be a fun place to be creative but also organized. There are plenty of options available to make a fun and functional space. Picking a theme for your mudroom can also get the kids involved and encourage them to keep the room neat as well.
Don't forget that if you have a home office you might want to consider doing a little spring organizing in there as well. Consider creative shelving, functional but attractive filing furniture as well as a desk that can raise or lower depending upon how you work best – taking breaks and standing up while working is a trend in Europe where many styles of desks are being designed for maximum productivity.
Closet Concepts is a member of the Association of Closets and Storage Professionals, licensed and fully insured. They hand craft many of their own components and they have successfully installed thousands of home organization systems. In addition, the installation is done by their experienced technicians – not by subcontractors like so many other companies. Closet Concepts also provides desks, cabinetry and shelving for home offices and professional settings for those who want a beautiful high quality office space in which to work.
If you would like help decluttering your home and making it beautifully attractive and efficient, give them a call at (845) 639-3003 or visit their website at http://www.closet-concepts.com.