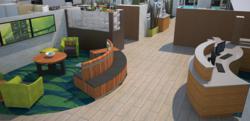 Our success has always been anchored by our commitment to guest service excellence; however with this renovation our hotel's physical space will match the uniqueness and personalization that we've always provided our guests through our service
Boca Raton, Florida (PRWEB) May 01, 2013
The SpringHill Suites by Marriott Boca Raton hotel in the heart of Boca Raton, FL is about to start a $1 million plus renovation to completely transform all aspects of their hotel's public space.
Labeled as, "Style and Space. Redefined.", this project is intended to reimagine and rejuvenate the public space of the hotel, including the entire lobby, lounge, breakfast buffet and dining area, fitness center, and meeting space.
"The idea is to transform the old passive lobby space into an airy, light-filled lobby for working or relaxing," says John Barone, SpringHill Suites Boca Raton general manager. "This project is going to help give our hotel a new physical identity. Our success has always been anchored by our commitment to guest service excellence; however with this renovation our hotel's physical space will match the uniqueness and personalization that we've always provided our guests through our service!"
To kick-off this four month project, Barone and the SpringHill Suites by Marriott Boca Raton are hosting a "wall-breaking" event today, May 1 from 4:30 to 6 PM. At this event, Barone and some of the local Chamber and CVB representatives will have the honor of knocking down the first wall of the renovation. The "wall-breaking" reception will feature hors d'oeuvres, beer, and wine and is open to in-house guests and the public. For information and to RSVP, feel free to contact Jennifer Dott at 561-869-8503 ext. 632, or visit http://www.styleandspaceredefined.com.
Designed to bring out the true "Essence of SpringHill," the renovation will include the following changes:

Contemporarily redesigned and expanded breakfast and lounge area
Modern and modular L-shaped bar to serve beer and wine inside in the lounge, or outside by our outdoor tropical pool
Upgraded business center with two PCs, lightning fast internet, and printing station
Completely re-vamped meeting space with brand new carpet and all new finishes
Entirely new oversized (630 sq. ft.) fitness center, with vibrant wall-coverings, state-of-the-art equipment, a yoga set up area, and ample free weights
Beautiful, covered outdoor terrace right next to our tropical pool
As an all-suite hotel with free breakfast for all guests and an unparalleled outdoor tropical pool, the SpringHill Suites by Marriott Boca Raton is ideal for south Florida business and leisure travelers, alike. Located immediately off of I-95 at Yamato Road, this Boca Raton hotel is immediately adjacent to the Arvida Park of Commerce, and minutes from the beach and the world-class shopping and dining of the Town Center at Boca Raton and Mizner Park.
About South Florida Marriott Hotels
Based in Boca Raton, FL, South Florida Marriott Hotels is a FL destination and tourism resource site for the Washington, DC based B. F. Saul Company Hospitality Group, a subset of a larger, private real estate firm, B. F. Saul Company. South Florida Marriott Hotels is a collection of three select service Marriott hotels throughout south Florida, including a SpringHill Suites and TownePlace Suites in Boca Raton, as well as a second TownePlace Suites hotel in Fort Lauderdale. The SpringHill Suites is an all-suite Boca Raton hotel perfect for business travelers and families, alike. The TownePlace Suites extended-stay hotels in Boca Raton and Fort Lauderdale are ideal for long-term stays, including snowbirds in south Florida for the winter months, as well as for business travelers needing Fort Lauderdale corporate housing and project work accommodations.
The B. F. Saul Company Hospitality Group the company represents a collection of full service, select service, and extended stay hotels located in MD, VA, MI and FL. WashDChotels.com serves both business and leisure guests seeking first class DC hotel accommodations, Washington, D.C. area meeting facilities, and banquet venues. The company also operates two IACC Certified Northern Virginia Executive Conference & Training Centers. To learn more about the B. F. Saul Company Hotel Division go to http://www.bfsaulhotels.com.