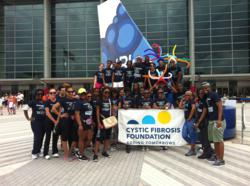 Make CF stand for Cure Found.
Miami, FL (PRWEB) May 01, 2013
StampLabel will continue to raise money toward its goal of $5,000 for the Cystic Fibrosis Foundation. The company will continue to give 10% of the profit from every purchase on its website (StampLabel.com) in the month of May to the foundation. Co-Chief Difference Maker, Jeremy Mathis, said "we are on our way to raising $5,000 for the foundation. We decided to continue raising money for the foundation because we really want to make CF stand for Cure Found and not Cystic Fibrosis. In addition, May is Cystic Fibrosis awareness month and we thought we should continue to raise awareness for the foundation."
To date, StampLabel has raised $420, and looks forward to reaching its goal. Jeremy said "Cystic Fibrosis is arcane to many and we want to do our part to bring notoriety to this chronic disease. We want to provide hope to Cystic Fibrosis patients and let them know that there are people that care about the disease that challenges them daily."
Last month, StampLabel visited Cystic Fibrosis patients at Miami Children's Hospital. The company encouraged the patients and allowed them all to obtain free apparel from the website. In addition, the StampLabel team, along with 35 Difference Makers, walked at the Great Strides Walk in Sunrise, Florida to bring awareness to the chronic disease.
StampLabel was started to give everyone an opportunity to express themselves through fashion, help give a voice to different charities that make a difference, and to change the world by making a positive impact. Co-Chief Difference Maker Joshua states, "There are so many great charities across the globe, but a lot of them go unnoticed for several reasons. The Cystic Fibrosis Foundation is a charity that I discovered due to the death of a student that attended my university. StampLabel wants to help raise awareness and funds for this great organization that makes a difference every day."
The mission of StampLabel is to make a difference in communities everywhere and enrich the life of every individual. The company helps as many people as it can, and through its efforts they hope to show everyone the importance of giving so that people will incorporate giving into their everyday lives. StampLabel wants their customers and supporters to not only incorporate giving into their everyday lives, but to also be an example so that others will do the same. When customers purchase a shirt on StampLabel's website, they are also making a difference and making a positive impact on this world.
Contact:
Jeremy Mathis
(786) 277-4689
JeremyM(at)StampLabel(dot)com
About StampLabel
StampLabel is a Christian oriented, custom clothing line. The company was founded by twin brothers who want to change the world through giving, helping others, and fashion. StampLabel has designs that are funny, inspiring, creative, expressive, and user developed. In addition, StampLabel gives its customers the ability to fully customize apparel. The company allows customers to brand all of the custom apparel they create with its distinctive trademarked logo. StampLabel accomplishes its goal of being a Difference Maker and improving society by giving away 10 percent of the profit from every purchase to charity.
About the Cystic Fibrosis Foundation
Since 1955, the Cystic Fibrosis Foundation has been the driving force behind the pursuit of a cure. The Foundation is the world's leader in the search for a cure for Cystic Fibrosis (CF). They fund more CF research than any other organization, and nearly every CF drug available today was made possible because of the Foundation's support.
The Cystic Fibrosis Foundation is a nonprofit donor-supported organization dedicated to attacking cystic fibrosis from every angle. Their focus is to support the development of new drugs to fight the disease, improve the quality of life for those with CF, and ultimately to find a cure.
The Foundation's drug development model has been recognized by Harvard Business School and by publications such as Forbes, The New Yorker, and Bloomberg Businessweek. Based in Bethesda, Maryland, the Foundation funds and accredits a national care center network that has been recognized by the National Institutes of Health as a model of care for a chronic disease.
The Cystic Fibrosis Foundation is one of the most efficient organizations of its kind and is an accredited charity of the Better Business Bureau's Wise Giving Alliance. To find out more about the Foundation, visit their website at http://www.cff.org.