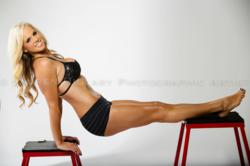 That's when we decided to take our clothes off for a good cause and engage with some meaningful local charities," explains Todd Vande Hei, President of STARK TRAINING.
IRVINE, CA (PRWEB) April 23, 2013
STARK TRAINING, a leader in rapid transformation of body composition, developed a creative way to motivate their clients to push their fitness goals to the next level while simultaneously promoting their favorite charities. STARK TRAINING chose six willing participants who were up for the challenge of training hard, dieting perfectly and following a "show-prep-like" process, rending every bit of fat possible from their bodies over a six-month period. At the end of this time frame the clients were photographed STARK NAKED—well almost naked.
These photos displaying their washboard abs, tightened gluteus maximi, and bulging biceps are available for your viewing pleasure on STARK's Facebook page. Additionally fans can vote for their favorite challenger. The challenger who receives the most votes will get to donate five hundred dollars generously given from STARK TRAINING to the charity of their choice.
The six local business leaders competing in the STARK NAKED charity challenge include:
Amar Dhillon – CEO of Platinum Associates in Irvine, CA. Competing for Orange County Child Abuse Prevention Center.
Dr. Colin Jairam – Competing for the Human Rights Campaign, which is dedicated to working for lesbian, gay, bisexual and transgender equal rights.
Christopher Gialanella – Publisher of Riviera Magazine in Orange County. Competing for the Pitt Hopkins Research Foundation.
Whitney Blocher – Director of Operations at Bronzed Bunny in Newport Beach, CA. Competing for Grounds for Health a charity to help fight cervical cancer.
Aileen Pham – Owner of Ra Yoga Studio in Costa Mesa, CA. Competing for Olive Crest who is dedicated to preventing child abuse, to treating and educating at-risk children and to preserving the family.
Celine Miller – Property Manager and Interior Design throughout California and actively involved with charity work in Orange County. Competing for Aids Services Foundation of Orange County.
Dr. Winnie Monaco – Chiropractor at Newport Medical and Wellness Center and on the alumni board of directors at Southern California University of Health Sciences. Competing for Cystic Fibrosis Foundation, Orange County Chapter.
The idea for the STARK NAKED challenge comes on the heels of another successful challenge in which the personal trainers of STARK competed in 2012.
"Stark Naked started as a water cooler-like challenge with some of our trainers claiming to have the best abs, or legs, or other various body parts. We're in the body business. It's a normal topic of conversation for us," says Todd Vande Hei, president of STARK TRAINING. "Deciding to put our money where our mouth is, we wanted to let our Facebook fans decide. However, there wasn't enough purpose to it. That's when we decided to take our clothes off for a good cause and engage with some meaningful local charities."
The clients saw how it pushed their trainers to the next level, created a sense of pride and purpose, all while doing it for a great cause. From there the idea for the client STARK NAKED challenge came to fruition and they have been training feverishly ever since.
"As a person who likes challenges, this was by far one of the biggest challenges of my life. I grew up as a scrawny kid and then suffered some thyroid issues, which expanded into heavy weight gain in my thirties. It is nice to now live a balanced overall life by feeling great and looking good in my forties," exclaims Christopher Gialanella who participated in the STARK NAKED charity challenge.
ABOUT STARK: STARK is the first national health facility focusing on juvenescence, the science of growing young by repairing adrenal glands, balancing sex hormones and enhancing brain function. They utilize the world's highest quality equipment and the most sophisticated training techniques in conjunction with personalized diets and high quality supplements. Stark is a national leader in rapid transformation for executives and sports performance for athletes. 17524 Von Karman Avenue, Irvine, CA, 92614.